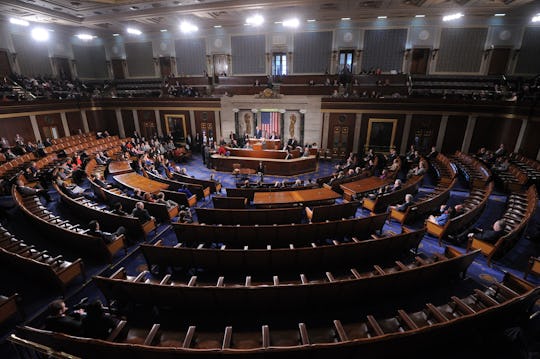 JEWEL SAMAD/AFP/Getty Images
Is The Electoral College Vote Final? The Election's Outcome Likely Won't Change
There's a last-ditch effort underway to deny Donald Trump the presidency, but even the man leading the charge told the Associated Press that it is, to be sure, a "losing bet," a "long shot," and a "Hail Mary." Still, Washington state Democrat Bret Chiafalo sees it as his moral imperative to try to convince his Republican colleagues in the Electoral College, the body that ultimately elects the president, to turn their backs on the decision of the constituents of their respective states. Chiafalo, like much of the country, views the president-elect as a danger to this country, and knows that the Electoral College vote is final in nearly every circumstance — so, essentially, it's now or never. The 538-member Electoral College is scheduled to convene on Monday.
Chiafalo is an organizer of the Hamilton Electors group, a band of electors who believe it is their duty to fight like crazy to stop Trump, who won the nation's electoral map but not its popular vote, from actually garnering the 270 electoral votes needed to secure the presidency. How? By appealing to Republicans representing their states' will (and bound to it either by law or expectation) respect for the Founding Fathers' wish that the body dedicate itself to "safeguarding the office of the presidency" against a person elected who may be, say, unqualified or under the influence of foreign powers.
In a video outlining the Hamilton Electors' mission, Chiafalo, a 38-year-old Xbox network engineer, laid out his argument and his plan. Basically, only 37 "patriots" would need to flip their votes to deprive Trump of what he already believes to be his.
That's the theory, anyhow, as Trump won 306 electoral votes to his opponent, Hillary Clinton's, 232. Technically, 155 of the electors from states that voted for the real estate mogul could legally change their votes (and many, if not all, of them have been inundated with requests from residents to do just that), but the reality that that is incredibly unlikely to happen. On Thursday, the Associated Press published the results of 330 interviews its reporters conducted with electors, concluding that there is "little appetite for a revolt" among not only Republicans, but Democrats, too, as Calvin Woodward and Rachel La Corte concluded.
One, an attorney from Nashville named Tom Lawless, summed up the sentiment that many of the electors seemed to share. "Hell will freeze and we will be skating on the lava before I change," he told the AP. "He won the state and I've pledged and gave my word that that's what I would do. And I won't break it."
Other reports tell a different story. Harvard law professor and Trump detractor Larry Lessig told Politico Tuesday that as many as 20 electors told him they were considering going "faithless," but he offered no proof, claiming that those citizens had spoken to him on the condition of anonymity.
Still, what if some of the sworn Republican electors opted to assuage their consciences by saying "no" to Trump, a man who has never held elected office, runs an international business empire that presents unprecedented conflicts of interest, and has a dubious and mysterious relationship with the president of Russia, one of the United States' most formidable adversaries? What if they cast their votes for someone else? If at least 37 did so, cutting Trump's electoral vote count to 269 or below, the decision would go to the Republican-majority House of Representatives, which would, in all likelihood, vote him into office regardless.
Also, even if this does happen, chances are that it won't be Clinton who ultimately takes over the Oval Office. After all, we're talking about GOP electors — like 9/11 first responder Christopher Suprun of Texas, who plans to cast his vote for Ohio Gov. John Kasich, according to Rolling Stone.
A deviation from the electors' tradition of electing the man the residents of their states voted for them to would be unprecedented and downright bizarre — not unlike the 2016 presidential campaign. So, on Monday, all eyes will be on the 538 Americans who, to some extent, hold this country's fate in their hands.