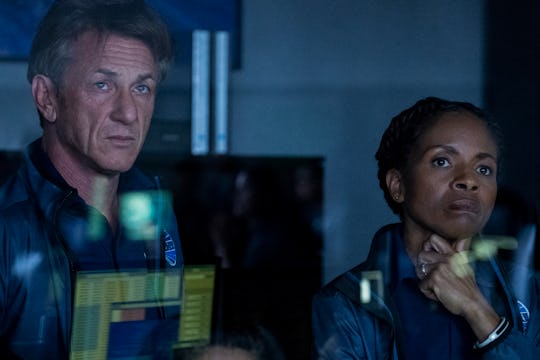 Alan Markfield/Hulu
Hulu's 'The First' Seems Like It Could Be Based On A Book
Sometimes it feels like everything on TV started out as a book first. And the premise of Hulu's new series, The First, definitely sounds like it would make a great novel. The show follows astronauts in a future society as they gear up for the first ever human mission to Mars. But is The First based on a book? It turns out that it's not. The First is a series produced by both Hulu and the British network Channel 4.
When The First premieres on Hulu on September 14, viewers will be introduced to a group of astronauts preparing for a journey to Mars, the loved ones they leave behind, and the ground control crew, who all struggle with the idea of taking on such a monumental mission. The First comes from creator Beau Willimon, who also created House of Cards for Netflix. Since Willimon had stepped down as the House of Cards showrunner after four seasons and the show has come to an end, this is his next big web streaming series.
The First not only has an ambitious plot and a $54.6 million budget, but also boasts a notable cast. Sean Penn plays one of the five astronauts chosen to board the ship to Mars. "I have such deep admiration for Sean's immense talent and extraordinary body of work," Willimon said in a statement obtained by TVLine. "I feel very lucky to be collaborating with an artist of his caliber." Natascha McElhone stars as an aerospace bigwig overseeing the mission to Mars and Australian-American actress Melissa Suzanne George plays Penn's wife.
While The First isn't based on a book or true story of any kind, the idea of making a trip to colonize Mars is very real. In real life, Mars One still has plans to colonize the far-away planet in a series of different phases. These plans include training astronauts in different simulated environments and eventually sending cargo units to Mars ahead of the planned human mission to Mars. It's unclear where Mars One is in this process, precisely, but it's possible that Willimon drew inspiration for The First from that.
He recently told Metro.us that he sees a real life trip to Mars as something that will happen in this lifetime. "Because at the heart of our story, even though we talk a lot about technology, is the human heart," he said. "I see a mission to Mars as an extension of humanity's desire to seek out themselves." He also said that although he doesn't know when it could happen, he does see a mission to Mars taking off as soon as the 2030s. "I think our human nature demands that we go to Mars. It is just a matter of when."
Given his obvious interest in mankind physically traveling to Mars, it seems like The First is an important project for Willimon. And not just because Hulu granted such a big budget for a first season. The First is more of a drama than sci-fi, so don't expect to see any aliens or space creatures. Instead, you'll get a lot more humanity than you might expect from a space exploration show.