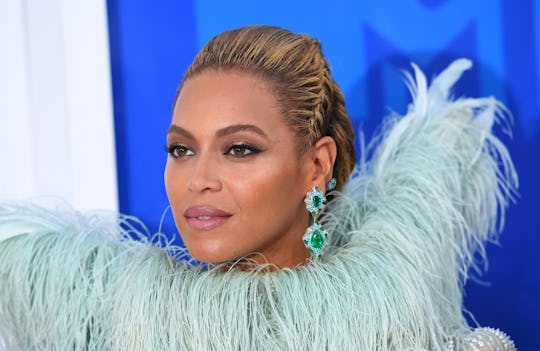 ANGELA WEISS/AFP/Getty Images
Will The Hurricane Harvey Telethon Be Live? Here Are The Deets
On Tuesday night, a host of celebrities will be taking over TV in an attempt to raise funds for the victims of Hurricane Harvey, with big names like Drake, Oprah Winfrey, George Clooney, and Beyoncé taking part in the "Hand in Hand" Hurricane Harvey telethon. Those are all exciting names to hear, and the telethon is raising funds for a great cause, but what exactly will be going down during the event? Will the Hurricane Harvey telethon be live, and what exactly can viewers expect when tuning in?
The telethon, called "Hand in Hand: A Benefit for Hurricane Harvey Relief," will mostly be streamed live, although a few appearances will be taped beforehand. According to MTV, the program will include live appearances and performances, taped tributes, and messages of support from a whole host of stars, and the broadcast will be streamed live from three stages in New York, Los Angeles, and Nashville.
According to TMZ, several celebrities will even be answering phone calls and taking donations, so who knows? If you call in to donate to the victims of Hurricane Harvey, you may even wind up chatting with Selena Gomez. (No promises, though. So far, the event website simply says phone calls and text messaging will be open at the beginning of the show, but there's been no word on who will be on the other end of those lines.)
Proceeds from the telethon will go to 10 different organizations helping with Hurricane Harvey relief efforts, including Save the Children, Habitat for Humanity, the ASPCA, United Way, and several food banks. And you better believe that some of today's biggest celebrities are on board to help out: Justin Bieber, Ellen DeGeneres, Justin Timberlake, Jimmy Fallon, and Reese Witherspoon are all among the list of over 100 celebrities who will be appearing during the hour-long telethon.
If you're looking to tune in, there will be plenty of ways for you to check out the Hurricane Harvey telethon. Not only will it be broadcast on ABC, CBS, NBC, Fox, and CMT, but it will be streaming online on Twitter, YouTube, and Facebook, so you can tune in regardless of your relationship with cable TV.
All proceeds from the event will be going directly to Hurricane Harvey relief, and the celebrities involved with the program are all donating their time to make a difference, so make sure you send a donation in while enjoying the show tonight. With the amount of people who will be tuning in, even $5 from each individual will make a huge difference to those affected by the hurricane.