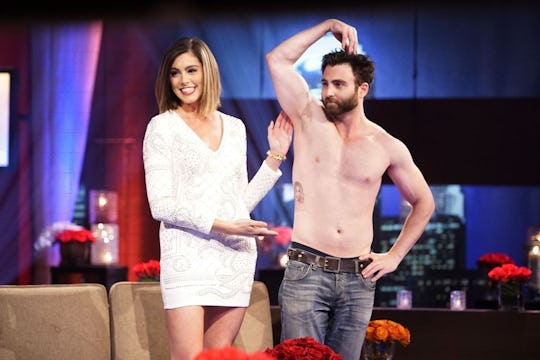 Is The Lace Tattoo Fake From 'The Bachelor: Women Tell All'? Here's What We Know About The Awkward Reveal
There was a lot of drama that went down on The Bachelor "The Women Tell All" episode. People were called out for making racially insensitive comments, others were bullied for being bullies, and Caila cried over her heartbreak. Fortunately, there was one moment of light-heartedness during the episode, when an audience member revealed a tattoo of Lace's face to all of Bachelor Nation on his body. It threw the entire room off because no one knew if it was real or fake — but now, there's more evidence coming out leaning towards it not being a permanent tattoo. And, honestly, I think that's probably for the best.
After "The Women Tell All" episode, a company named Momentary Ink posted a photo of an order they received that bears striking resemblance to the tattoo the man had on his ribcage. When contacted for comment regarding the man's participation with the show and the tattoo's authenticity, ABC had no comment.
It's hard to say what is happening here, because for all we know the man in the audience could have acted alone and gone rogue, wanting to show off some fresh (possibly fake) ink that he got for some added camera time. You can compare the photo of the tattoo to the photo on the order and base your judgement on that.
TMZ also added fuel to the fire when they reported that the man who made the statement of grandeur was Jamie Abrams, Punk'd producer. Abrams has also been a producer on shows like Prank My Mom, Mystery Diners, and Celebrities Undercover, so it definitely sounds like he enjoys a good prank once in a while. Abrams was contacted about his participation in the show, but did not hear back by the time of publication.
So, what's going on with this bizarre Lace face tattoo? The jury is still out on what officially was going on regarding the authenticity of it. But, I think we can all agree that one authentic thing we can be sure about is Lace's reaction to the tattoo. That was not the face of a girl who was expecting a man to have her face on his body — whether it was permanently there or not.