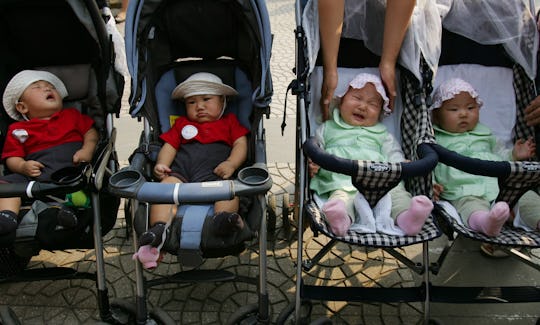 China Photos/Getty Images News/Getty Images
Android Users Will Have To Wait For The Peanut App
I don't know about you, but my mom friends are integral to my sanity. They are in the trenches with me, they let me off the hook when I'm a bit of a jerk, and they are never offended when I ditch them at the last minute. Because they, too, are exhausted and busy and overwhelmed. As I said... integral. Which is why I was so happy to read about the new mom friend app. And not that I want to cheat on my own people, but I'm really hoping this mom friends app is available for android users. Because Tinder just doesn't cut it when you just want some girls to hang out with and binge watch Netflix in your pyjamas.
Sadly, at the moment, it seems the new app is only available for iPhone users (sorry). But since that's basically everyone else on the planet, you guys are in luck. The Peanut app is free, links to your Facebook profile to share your pics, location, and other general information to help find you new mom friends. If you don't want to share everything on your Facebook profile, you can edit pics as well. The app is specifically designed for pregnant moms, or women with children under the age of 16 years old. And it's going to make approaching other moms for a cool mom date way less... restraining order-worthy.
Much like Tinder, the Peanut app allows you to be hella-specific about the kind of mom friends you're looking for by allowing you to pick three "badges" to help narrow down your search. You can identify yourself as a mom who lives organically, or as the mother of special needs children. Or you can try to seek out like-minded moms by getting weird — I'm a fan of the "hot mess", "fashion killa", and "dance machine" badges. Because I just want to see what sort of mom friend those options might get me.
Michelle Kennedy, the creator of the Peanut app, worked in the dating app industry for years before she became a mom. Once she had her baby, she experienced that thing that no one tells you will happen but always happens; crippling loneliness. She told Woman's Day:
My girlfriends weren't at the stage in their lives where they were yet having children, and even if some of my [other] friends were, we all live in different parts of the city—and leaving the house to go anywhere farther than 10 minutes from home with a newborn felt like a military operation.
She struggled to find like-minded mom friends, and realized she probably wasn't the only one. And so, Peanut was born. Easy to use, inventive, and fresh, the app uses Facebook not only as an easy way to sign up, but to filter out any nefarious lurkers:
Peanut removes the cloak of anonymity which can be found in slightly older products. We have found that this encourages good behavior and makes it a more empowering community.
The app is so straightforward and so accessible to busy moms who generally only have one hand to use (swipe up to "wave" swipe down to keep going), it's no wonder it's trending as number one on the U.S. app store. It's available to download for free in beta form. So get out there and find yourself some mom friends.