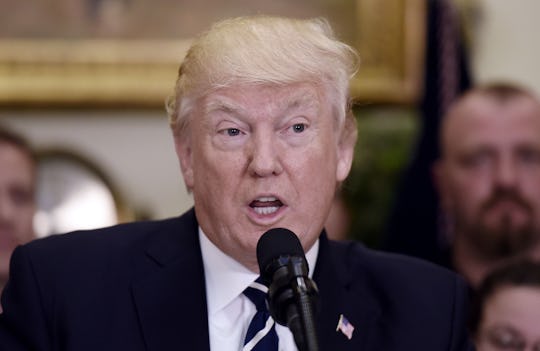 Pool/Getty Images News/Getty Images
Here's What You Need To Know About The RAISE Bill's Legality
President Trump has had his struggles with immigration in the past. Despite his campaign promises to curtail immigration into the United States and create more jobs, his efforts so far have been met with strong criticism. Still, that didn't stop the president from introducing the RAISE Act, a new bill on Wednesday aimed at reducing legal immigration. The bill looks towards a merit-based system for allowing people in the country. But is the RAISE Act legal?
The RAISE Act (Reforming American Immigration for Strong Employment) was initially introduced by two Republican senators back in April; Sens. Tom Cotton of Arkansas and David Perdue of Georgia. The two senators were with President Trump at the White House on Wednesday to introduce the new immigration bill, which has been lauded as the "biggest change to immigration in the past 50 years," according to The Los Angeles Times.
The RAISE Act, if implemented, would significantly reduce the amount of legal immigrants allowed to enter the United States every year; The Washington Post noted the RAISE Act would welcome just 500,000 immigrants to be green card holders as opposed to the previous allotment of one million green card holders. The new bill would also give preference to immigrants who speak English, and can support themselves financially, according to Trump's announcement on Wednesday. It would also hinder family reunification by limiting the number of family-sponsored visas (only spouses and young children will be considered part of a green card application), and offer preference to applicants with "skills," although Trump did not identify which specific skills he meant.
During his speech, Trump noted, according to ABC News:
This competitive application process will favor applicants who can speak English, financially support themselves and their families, and demonstrate skills that will contribute to our economy. The RAISE Act prevents new immigrants and new migrants from collecting welfare, and protects U.S. workers from being displaced. And that's a very big thing. They're not going to come in and just immediately go and collect welfare. That's not going to happen under the RAISE Act, they can't do that.
The RAISE Act would also put an end to the visa lottery system, which offered 50,000 green cards per year to countries where there was a surplus of immigration applications every year (like Canada, Brazil, and India). Trump's apparent desire to reform legal immigration is a serious about-face from his earlier position that his administration would leave legal immigration as it stood.
The RAISE Act, which Cotton and Perdue reportedly modeled after immigration policies in Canada and Australia, appears to be legal, if relatively vague in its wording. And it does raise some interesting questions about the possibility of profiling prospective immigrants in areas not yet identified.
President Trump might feel confident in the RAISE Act at the moment, but whether or not it has a chance of passing in Congress is another story. Democrats are already outraged at what Democratic National Convention Chair Tom Perez said is another effort to further Trump's "anti-immigration agenda." He went on to note, in a statement released on Democrats.org, that studies have shown "punishing immigrant families and curbing immigration would only stifle America's economic growth and limit our nation's potential."
If there is any home for Trump to see this bill passed, it has to first make it through Congress and then move on to the Senate. Eight Democratic senators would need to support the bill, as well as all Republicans. The chances of that happening at this juncture seem to be slim to none.