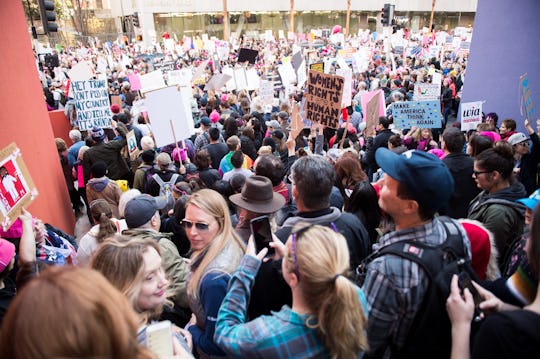 Emma McIntyre/Getty Images Entertainment/Getty Images
Is There A 2018 Women's March In Denver? Here Are The Details
If you attended last year's Women's March, you may want to know when and where the protests will be held this year so you can show solidarity once more. Or, if you hadn't, you may want to make 2018 the year you fully immerse yourself in the social justice movement. Live in Colorado? Then you'll have more than a dozen satellite marches to pick from, including a 2018 Women's March in Denver. The protest in Mile High City is one of more than 600 planned for this month.
The Women's March is scheduled to take place on Saturday, Jan. 20 at Civic Center Park in downtown Denver, according to The Denver Post. A permit filed with the city's parks and recreation department revealed that organizers with March on Colorado expect as many as 200,000 activists to attend this year's protest, which will begin at 9:30 a.m. Central Time and follow a one-mile route,The Denver Post reported.
In total, organizers in Colorado have planned 15 marches so far, according to the main Women's March website. Protests in the Centennial State will take place either Jan. 20 or Jan. 21 in Denver, Colorado Springs, Aspen, Ignacio, Cortez, and Carbondale, among a few other cities.
Fort Collins for Progress, a non-profit community action group, has reserved buses to bring 500 people to the 2018 Women's March in Denver, according to a release published in The Rocky Mountain Collegian. Fort Collins for Progress said of the march in its public invitation,
As we look back on 2017, it becomes clear that the issues affecting women are truly shared by all, whether African American, Native American, poor, immigrant, disabled, Muslim, lesbian, queer, or transgender. We will march in solidarity for freedom from violence, protesting gender, racial, and economic inequality.
The non-profit organization added,
Come share energy with thousands of people who believe in the power of unity. Let's begin this election year with a show of solidarity, persistence, and determination to preserve our democracy.
The 2018 Women's March in Denver is one of 673 satellite protests registered online as of Wednesday afternoon, according to the Women's March website. Nearly five million marchers are expected to attend events across the country and around the world. Close to 500 protests will be held in North America alone, while others will take place around Europe, Africa, South America, Asia, and Australia, a map of registered marches has shown.
The event in Denver will happen the day before the main 2018 Women's March will take place in Las Vegas, Nevada, according to Elle. Women's March organizers have planned the 2018 event for Sunday, Jan. 21, a year to the date of the inaugural protests that saw millions descend on Washington, D.C.
The anniversary march in the City of Lights will kick off the Women's March 2018 initiative, #PowerToThePolls. #PowerToThePolls will be a year-long, nationwide voter registration and mobilization campaign that aims to build support for progressive candidates and secure progressive seats in 2018, particularly in vulnerable swing states.
The organizers chose Nevada to launce the #PowerToThePolls initiative because, according to the Women's March website,
Nevada has recent experience with some of the most pressing issues facing women in our nation today, from gun violence to politicians accused of sexual assault. As a swing-state that will shape the Senate in 2018 and as home to a strong activist network, Nevada is the perfect place to commemorate the Women's March and continue building our electoral power.
The events over the last year, and Donald Trump's presidency as a whole, show that it's more important than ever to take an active role in ensuring progress. Everyone has a part to play, whether it's attending the Women's March, volunteering with a local human rights group, or using your voice to raise awareness online. The important question, then, becomes: What side of history do you want to be on?
Check out Romper's new video series, Romper's Doula Diaries:
Watch full episodes of Romper's Doula Diaries on Facebook Watch.