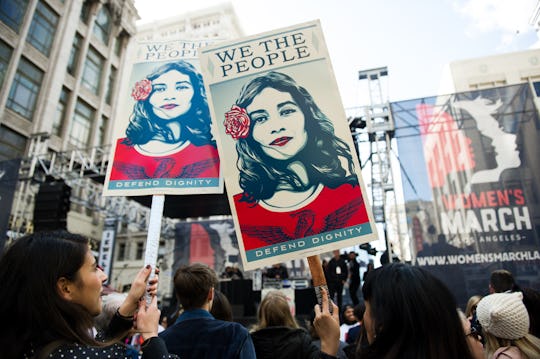 Emma McIntyre/Getty Images Entertainment/Getty Images
Here's What You Need To Know About The 2018 Women's March In L.A.
It's hard to believe that it's only been a year since the inauguration of President Donald Trump and the subsequent Women's Marches that took place all over the world. If you're still fired up and ready to hit the streets in most major cities, you're in luck, as organizers are planning a second round. Although the details are still being worked out, there will indeed be a 2018 Women's March in Los Angeles on Jan. 20, 2018, as there will be in other cities all over the country.
UPDATE: In a press release on Jan. 11, Women's March organizers announced a "powerful line-up of activists and celebrities" that will either speak or perform at the event. Supporters included Scarlett Johansson, Chloe Bennet, Rowan Blanchard, Yvette Nicole Brown, Sophia Bush, Laverne Cox, Lea DeLaria, Tony Goldwyn, Paris Jackson, Megan Mullally, Olivia Munn, Nicole Richie, Catt Sadler, Adam Scott, Olivia Wilde, Larry Wilmore, and Alfre Woodard.
Celebrities set to perform include Idina Menzel, Andra Day, Rachel Platten, Maxwell, and The Gay Men's Chorus of Los Angeles with Melissa Etheridge. A host of other notable guests are expected to be a "part of a national movement to unify and empower those who stand for women's rights, human rights, civil liberties and social justice for all."
EARLIER: The official website for the event promises that the speakers for the event will be announced in the coming days, but the event will start in Pershing Square and end in Grand Park, with the kickoff stage set up at the corner of 5th and Hill. There will be merchandise and places to stock up on signs and "pussy hats" inside Pershing Square and at Grand Park, according to the FAQs on the site. The organizers wrote on the website:
We are working with the City, LAPD, and many other departments to ensure that this years [sic] March is a safe, positive environment for all, that builds off and incorporates the knowledge that we gained from the 2017 event.
However, they do know that the events will begin at 5th and Hill at 9 a.m., with the march starting at 10 a.m. There will be programming at Grand Park starting at 11 a.m. and running until 3 p.m., so you can plan to meet people there if you get mixed up earlier in the day.
Although you don't need a ticket to attend, organizers are asking people to sign up on Eventbrite or on its Facebook page, so that they have an idea of how many people are interested in coming (and likely to give law enforcement an idea of what to expect). The organizers also say on the website that they're getting restrooms based on the amount of people who register, so if you want to make sure your sisters (and brothers!) have a place to pee, definitely RSVP.
Because this is L.A. and they know how to throw a good party, there are also going to be 15 food trucks throughout the route for you to stop and eat, according to the event's website, though they say people should feel free to bring bottled water and their own snacks. You can also still sign up to volunteer at the event.
Last year, LAPD reported that over 100,000 people joined the demonstration, while the event organizers reported about 750,000, according to ABC News. This year, they're estimating about 200,000 people will show up. While last year the march was more focused on Trump's presidency and women's rights, this year the march will focus on galvanizing people to register to vote and get others to do the same.
While there will be Women's Marches on Jan. 20 all over the country, the organizers of the Women's March are holding another event on Jan. 21 in Las Vegas, Nevada called #PowerToThePolls. Tamika D. Mallory, co-president of the Women's March told Elle:
Organizer Women's March has created a powerful movement that has ignited thousands of activists and new leaders. In 2018, we must turn our work into action ahead of the midterms. This new initiative will address voter registration and voter suppression head on. We marched for justice in DC, we created our plan in Detroit and now we're bringing the power of the polls to Nevada.
They chose Nevada since it has the potential to turn blue in the 2018 midterms, so it's the perfect place to gather people who want to make a change next year. If you can't make it to Nevada, you'll still probably see a lot more "register to vote" booths in L.A. and at other Women's Marches across the country.
So get your posters and your pink hats out from the back of your closet, because the resistance is still on.
Check out Romper's new video series, Romper's Doula Diaries:
Watch full episodes of Romper's Doula Diaries on Facebook Watch.