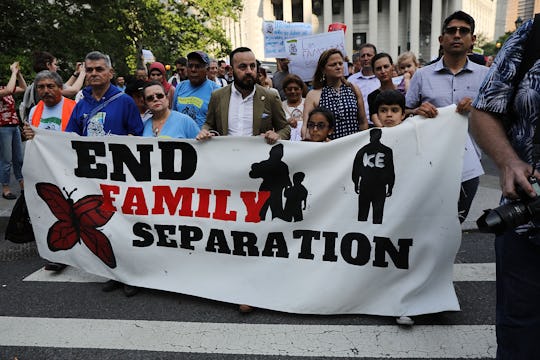 Spencer Platt/Getty Images News/Getty Images
Everything You Need To Know About The "Families Belong Together" March In Washington D.C.
Over the past few weeks, Americans have been expressing outrage over the horrific separation of immigrant families at the United States' borders. In response, Americans have turned their rage into change. Several advocacy groups announced a nationwide march against family separation — called Families Belong Together — to be held later this month. Considering President Donald Trump and his staff live in Washington D.C., many are likely wondering if there will be a Families Belong Together march in Washington D.C.? Not to mention, people are wondering if there will still be a march at all, considering the executive order Trump signed Wednesday to end the controversial policy.
Over the past few months, President Trump, Attorney General Jeff Sessions, and many others in the administration have made their "zero-tolerance" policy for undocumented immigrants clear, and that policy has resulted in the government separating thousands of children from their undocumented parents at the border, according to NPR, with some children being sent to detention centers with "what look like chain-link cages."
And it seems like the planned march has already had an effect on Trump. On Wednesday, just a day after the march was announced, Trump signed an executive order protecting undocumented parents and kids from being separated at the border, CNN reported. "We're signing an executive order. I consider it to be a very important executive order," Trump said while signing the order on Wednesday, according to CNN. "It's about keeping families together, while at the same time being sure we have a very powerful, very strong border."
That being said, the Families Belong Together march is still very much happening — and yes, the march will be in Washington D.C. In fact, the Families Belong Together march will be headquartered right in front of the White House. On Saturday, June 30, hundreds of cities across the country will hold marches in protest of Trump and his administration separating children and their families. The June 30 march will kick off at 11 a.m. at Lafayette Square, adjacent to the White House, according to the march's Facebook event.
"On June 30, we're going to the White House to tell Donald Trump and his administration to stop separating kids from their parents!" reads the D.C. branch of the march's description on Facebook. The description continues:
Families belong together, and we need to end this — now. Every day, this administration is cruelly separating children from their families. They have proven that whether it's at the border or in detention, we can't trust them to care for children."
There have been several other Families Belong Together rallies in the United States over the past few weeks, but the June 30 protest will be the first nationwide venture.
Rep. Pramila Jayapal (D-Wash.) first announced the march on Monday, in an interview on MSNBC, according to HuffPost. Jayapal reportedly said:
We are absolutely ready to have mass mobilization. We see the outrage and we see that this has to be taken right to the White House, right to Donald Trump, to stop the family separations. Nobody believes that there is any legislative reason, any policy reason, and certainly no moral reason to be separating these kids ... This is not a political issue. This is about what's right and wrong.
Trump's new executive order is a huge backpedal from a statement he made on Tuesday, when he reportedly claimed there was no way to prevent family separation without having "totally open borders," as CNN reported. On Tuesday, he said:
Under current law, we have only two policy options to respond to this massive crisis. We can either release all illegal immigrant families and minors who show up at the border from Central America or we can arrest the adults for the federal crime of illegal entry. Those are the only two options, totally open borders or criminal prosecution for law-breaking.
Evidently, those were not the only two options. Hopefully Trump's reversal will prevent any further family separation — although it's unclear how it will affect the thousands of children who are currently separated from their parents.
To look up the Families Belong Together march nearest you, click here. If you want to help the families who have been separated at the border, click here.