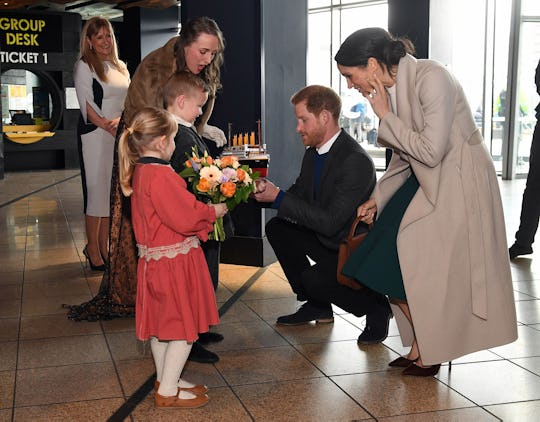 Pool/Getty Images Entertainment/Getty Images
Children Will Play A Big Role In The Royal Wedding, But Will There Be A Kids' Table?
Prince Henry of Wales is set to marry American actress Meghan Markle Windsor Castle in England on May 19, and details for the event are coming together. Attendants have been chosen, guests have been invited, and hats have been purchased for the wedding of the 21st century. With multiple ceremonies and over 600 guest reported to attend, there's bound to be people of all ages present — including children. So, in terms of the reception, is there a kids' table at the royal wedding? Turns out, more than a few children will play a major role in this regal affair.
Children will be a big part of the royal wedding, according to Page Six, serving as bridesmaids and pageboys. In fact, it's customary to include children in a royal wedding — even more than weddings that takes place in the United States — and, as The Sun reports, Princess Charlotte and Prince George are among the kids in the wedding party pulling such duties. Recently, Kensington Palace confirmed all of Meghan's six bridesmaids will all be children, ranging in age from 2 to 7, and there will be four page boys, ranging in age from 4 to 7. In other words, this event is sure to be an all-out family and friend affair, but how will the reception play out?
There are two scheduled events once the wedding concludes: a private reception hosted by Queen Elizabeth at St. George's Hall with wedding guests in attendance, and an exclusive, 200-guest after-party hosted by Prince Harry's father, Prince Charles, at Frogmore House. There's nothing prohibiting the children from attending either event, which may suggest they'll be accommodated if they do attend. However, and according to The Cut, it doesn't appear that any kids attended the Duchess of Cambridge, Kate Middleton, and Prince William's similarly exclusive wedding reception. So, at this point, an actual kids' table at the royal wedding's reception hasn't been specifically confirmed.
With all of that said, wedding seating inside Windsor Castle will follow tradition, with the royal family seated on the left and Meghan's family and friends seated on the right. The reception will be standing room only — a break from usual royal protocol. The 600 guests in attendance won't have assigned seating, which would negate the need for a kids' table during this portion of the day-long event. According to Insider, Harry and Meghan want guests to feel "free to move around and mingle."
With no assigned seating, it's the couple's hope, according to USA Today, to meet with as many guests as possible, which isn't always an option when you plan a wedding with traditionally-seated arrangements. The menu will feature fresh ingredients from the Queen Elizabeth's gardens, to create delicious "bowl food" and two-bite canapés to "pick up and carry around as [guests] mingle." And while Prince William and The Duchess of Cambridge hosted a 650-guest sit-down lunch in Buckingham Palace for their first reception, Prince Harry and Meghan are hoping to throw a reception that facilitates more movement — a set up that, perhaps, might appeal to the little ones in attendance (and their parents because, honestly, asking a child to sit through a wedding and a reception is really pushing it).
It's still unclear as to whether there will be an event after the standing room lunch reception and before Prince Charles's afterparty. If they choose to do so, there's no telling if it, too, would follow royal wedding tradition and protocol, like much of the wedding itself, or if it would lean more toward the untraditional, like that of the bowl food and standing reception. Either way, there are no concrete reports of a kids' table, or whether kids — even the wedding party children — will be attending the after-wedding events at all.