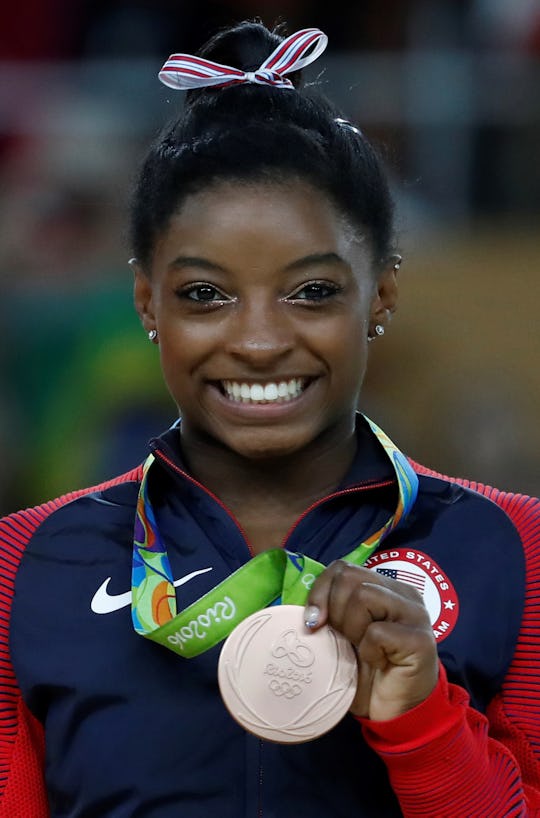 THOMAS COEX/AFP/Getty Images
Is There A Simone Biles Doll? Fans Are Hopeful
Olympic gold medalist Gabby Douglas has already made history on the mats, first in London in 2012 and again at this year's Summer Games in Rio. But, last month the 20-year-old gymnast made a slightly different mark in Olympic history when she unveiled her very own Barbie doll, an addition to a new line of Barbies called "Shero," spotlighting female heroes who've broken barriers in their fields. Fans of the "Final Five" — the nickname the 2016 USA gymnastics team has given themselves — might be wondering if there are plans in the works to complete the team. More specifically, some might be curious if this year's new star of American gymnastics (who's been crushing records and dominating headlines), Simone Biles, will have a doll of her own one day.
While a Biles-look-alike doll doesn't appear to be currently in the works, that doesn't mean there aren't talks happening behind closed doors, considering the impact the 19-year-old gymnast has made on the sport in such a short time. Just as Douglas started gaining a huge and continually growing fan club since her Olympic debut in 2012, Biles now has a massive following, including lots of Hollywood celebrities, like Kim Kardashian and Zac Efron.
Both Douglas and Biles are favorites, not only for their insane abilities to flip and soar with such grace, but because they have been able to inspire young girls in remarkable ways — both gymnasts did not have a typical childhood and have been able to bring hope to children in similar situations. So, it's a good guess that fans are probably hoping that the world-famous toy company, Mattel, will offer a doll of both gymnasts one day.
As fans wait for that fateful day, they can try to get their hands on a Douglas doll if that haven't already, because the message behind her doll is reason enough to buy it and to support the USA gymnastics team: Chase after your dreams.
"Be yourself and really embrace your inner beauty and your true talent," Douglas told People in an interview last month. "Believe in yourself. Never let anyone tell you you can't do something when you can."
Just in case Mattel doesn't jump on this prime time marketing opportunity to add Biles to that collection, parents can always count on children for their imaginative and creative spirits to make their own"Team USA," however they please.