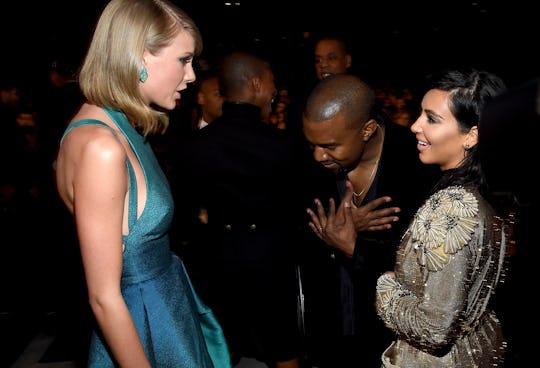 Larry Busacca/Getty Images Entertainment/Getty Images
This Taylor Swift Song Is So Obviously About Her Complicated Relationship With Kanye West
Even though Taylor Swift's long-anticipated Reputation is a brand-new album ostensibly created to introduce fans to a new version of the pop music starlet, her old grudges permeate the music. Namely, Swift's long-running feud with Kanye West and his wife, Kim Kardashian, very clearly fueled at least one of the tracks. Because, even though the album's been out for about five minutes, I'm just going to call it now: the famous couple totally inspired "This is Why We Can't Have Nice Things," and there's absolutely no ambiguity about it.
The thirteenth track on Swift's sixth studio album starts with a luxurious description of the carefree life Swift once led, when she'd throw big pool parties and have all her friends over to swim in the "champagne sea." It was great; there were "no rules"; she was "feeling so Gatsby for that whole year." And then, ahem, SOMEONE showed up to "rain on [her] parade."
Anyone who's followed pop culture even in passing for the last several years probably has a pretty good idea of who insidious ruiner-of-parades is: Mr. Kanye West. From his infamous takeover of her MTV VMAs speech in 2009 to their recent dispute over whether Swift OK'd a lyric in which he calls her a b*tch and takes credit for her fame, these two superstars have shared a tumultuous, combative relationship, to say the least.
But before the whole dispute over West's "Famous" erupted in 2016 — during which Swift publicly admonished him for the lyric in a February Grammys speech and Kardashian publicized a series of Snaphchat videos in which Swift approves a different lyric over the phone a few months later — Swift and West had actually made up. As Swift shared in a September 2015 Vanity Fair interview, their mutual friendship with JAY-Z had brought them together as friends, and they "reached a place where he would say really nice things about my music and what I've accomplished, and I could ask him how his kid's doing."
In retrospect, it was the calm before the storm, a period characterized by Swift's presenting him with the Michael Jackson Video Vanguard Award at the VMAs that year, and West's sending her giant bouquet of white roses as a thank you. But, as we know now, the situation would soon take a turn made for the tabloids. And the Swift who sings "This is Why We Can't Have Nice Things" surely knows it, too:
It was so nice being friends again/ There I was, giving you a second chance/ But then you stabbed my back while shaking my hand/ And therein lies the issue/ Friends don't try to trick you/ Get you on the phone and mind-twist you/ And so I took an axe to a mended fence
Well, that narrative — from which Swift once said she would "very much like to be excluded" — basically could not mirror real life any more. At this point, if you're not convinced that "This is Why We Can't Have Nice Things" is all about Kanye, then that's because you don't want to be.
Still, I'll offer you this bit of evidence, too: Later on in the song, Swift sings, "Here's a toast to my real friends." Pretty innocuous, right. Except for the fact that another song on West's 2016 The Life of Pablo album in addition to the lightning rod of "Famous" is actually called "Real Friends."
Subtweet much, Taylor? If the "old Taylor" really were dead, as Swift insisted she is in the single "Look What You Made Me Do," maybe she would have left the spat with West behind.
Check out Romper's new video series, Romper's Doula Diaries:
Watch full episodes of Romper's Doula Diaries on Facebook Watch.