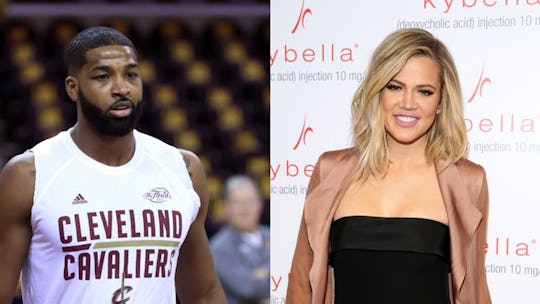 Ronald Martinez/Getty Images Sport/Getty Images/ Cindy Ord/Getty Images Entertainment/Getty Images
Khloé & True Are Heading To LA Soon, According To Kris Jenner, But Is Tristan Going With Them?
It's been nearly two months since Khloé Kardashian gave birth to her first child, a daughter named True Thompson, but so much has happened in that short time. The world has watched closely to see what Kardashian's next move would be after her boyfriend, Tristan Thompson, was allegedly seen with another woman just days before she gave birth. Given that Kardashian has stayed in Cleveland with the baby, it really begs the question: Is Tristan Thompson moving to LA with Kardashian and baby True? Their next move as a family may be very telling of where they are at in their relationship.
In a recent interview with E! News, Kardashian's mom, Kris Jenner, shared that she would be moving back home to LA soon, with baby True in tow. In the meantime, she and her family FaceTime regularly, as Jenner revealed, and at the time of her delivery, all of the KarJenner women flew to Ohio to be by her side. However, perhaps intentionally, Jenner did not make any mention of what Thompson would be doing.
As fans may already know, Thompson has signed with the Cleveland Cavaliers in 2015 for a five-year contract, as ESPN noted, which means that strictly career-wise, he'll have to be stationed in Ohio until at least 2020. Though that doesn't mean he can't regularly make trips to LA to see his girlfriend and his daughter, it does mean that if he doesn't immediately make the move to California, that could certainly be one reason why.
Though Kardashian has been staying in Thompson's home city, that doesn't mean their relationship is all peaches and roses. Of course, all of this is in reference to the Daily Mail and TMZ releasing footage that purported to show Thompson allegedly cheating on Kardashian with multiple women, mere days before Kardashian was expected to give birth to their daughter. Romper's requests for comment from both Kardashian and Thompson's reps regarding the cheating allegations were not immediately returned.
Though neither Thompson nor Kardashian have issued statements regarding the allegations, Kardashian's sister Kim Kardashian West did make a comment about the situation on an episode of The Ellen DeGeneres Show, in which she summed it up by saying: "I don't even know how to describe it besides, 'It's just so f*cked up,'" as The Cut reported.
However, other anonymous insiders have also shared alleged peeks into what Thompson and Kardashian's relationship has reportedly been like in the months since True was born. One such source told E! News: "Khloé is taking it one day at a time with Tristan. She is glad he is helping her out with True, but she has also been spending a lot of alone time reflecting. They don't speak much about the situation, and Khloé feels like she is living in her own personal hell."
Another source that spoke to People shared a similar sentiment, which was that despite everything, Kardashian's focus is where it should be: on her daughter and her own well-being. "She's creating a life for her family in Cleveland. The Tristan stuff hasn't seemed to impact her substantially — at least not for now," the source reportedly told People. "She is prioritizing, and her priority is True."
Despite the fact that none of this answers the question of whether or not Thompson will be moving to LA with Kardashian and his daughter whenever that may ultimately happen (and hey, it's possible that not even he knows for sure yet), it does paint a bit of a clearer picture: regardless of what happens in the future, Thompson and Kardashian are putting their daughter first, no matter how the details play out.