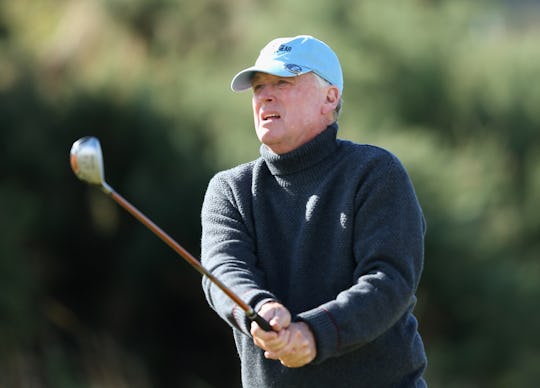 Richard Heathcote/Getty Images Sport/Getty Images
Is Trump Considering Dan Quayle For A Cabinet Position? The Two Had A Meeting This Week
Any fans of The Apprentice out there might recognize a certain quality to President-elect Donald Trump's ongoing Cabinet choices — those he hopes will join him on his move to the White House come January. Much like his reality TV show, Trump has chosen A Popular Girl (South Carolina Gov. Nikki Haley), A Wild Card (former Breitbart CEO Steve Bannon), and now it looks like he might bag himself a blast from the past to hit us all in the nostalgic feels. Earlier this week, Trump met with former Vice President Dan Quayle and I know what you're thinking — Dan Quayle + Federal Government is still a thing?
Quayle visited Trump Tower on Tuesday, and while he might have been there simply to sample its world famous taco bowls, many political pundits think there could be something more substantial afoot. While Trump aides have yet to comment on the nature of the visit between Quayle and Trump, there is much speculation that Trump could potentially be looking to add Quayle to his Cabinet. Thus reminding us all that not only does former Vice President Quayle continue to move in political circles, but he might be in a position of power in the very near future. (How's that for a #Throwback?)
For anyone who doesn't remember Dan Quayle let me first say this: Don't feel bad. You are not alone. Next, a little background, in case you did forget or were too young to remember him in the first place: Quayle was the vice president from 1989-1993 under President George W. Bush. Quayle earned notoriety when he went after the TV show Murphy Brown because the main character (played by Candice Bergen) was a single mother. He felt the show represented "disintegrating family values" and said in San Francisco in 1992:
It doesn't help matters when prime time TV has Murphy Brown, a character who supposedly epitomizes today's intelligent, highly paid, professional woman, mocking the importance of fathers, by bearing a child alone, and calling it just another lifestyle choice.
Also there was this one time when he couldn't spell "potato" and it made everyone laugh:
So what could Trump and Quayle be discussing at Trump Tower? Sen. Bob Corker said he believed the president-elect is in the process of narrowing down his choices for secretary of state. Corker, the chairman of the Senate Foreign Relations Committee, said:
It needs to be someone he's very comfortable with and he knows there's going to be no daylight between him and them.
Trump is set to meet with former Republican presidential nominee Mitt Romney later in the week, and he met with former CIA director David Petraeus on Monday. Whether Quayle ends up making the final cut is anyone's guess at this point, but at least it makes for plenty of meme-able material. Right?