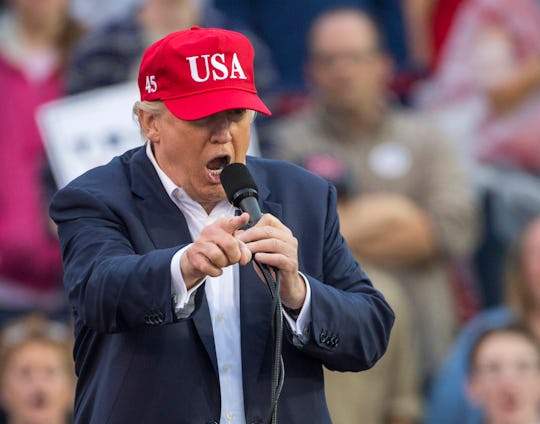 Mark Wallheiser/Getty Images News/Getty Images
Is Trump Eliminating The White House Homeland Security Adviser Position?
An unsettling new report from Politico raises a number of serious questions about President-elect Donald Trump's transition as it relates specifically to his counter-terrorism appointments. Chief among the concerning questions — is Trump eliminating the White House Homeland Security adviser position? While Trump's representatives did not immediately respond to Romper's request for comment, or to requests from other news outlets, elimination does not seem to be out of the question, as Trump has not yet named someone to fill the important position.
The Politico report by Michael Crowley comes amid a week filled with terror or potential terror attacks around the world, from the assassination of the Russian envoy to Turkey to the truck crash in the Berlin holiday market. Naturally, many Americans are wondering how the president-elect and his team will deal with terrorist threats beyond empty campaign rhetoric. To that end, the appointment of a new White House Homeland Security and counterterrorism adviser is incredibly important. This is the person who briefs the president on potential terror plots, and helps to coordinate the government's response in the event of a crisis. The role is currently filled by Lisa Monaco in President Barack Obama's administration.
And yet, with only about a month until Trump's inauguration, there is no word on what will be happening with the position, leading prominent people to worry.
Some have speculated that Monaco's role will simply be subsumed into that of the national security adviser, which is set to be Lt. Gen. Michael Flynn. Flynn is a noted conspiracy theorist who has tweeted, "Fear of Muslims is RATIONAL."
Monaco, for her part, has told reporters that she is "eager to sit down with" her unnamed successor, having prepared "reams of information" to give to him or her to help with the transition. But she can't do anything with all that information just yet.
Other roles yet to be filled, according to the Politico report, include the director of National Intelligence, who is vital in assessing domestic and international terror threats, as well as other important roles at the Department of Homeland Security. These are the people who will help to keep us safe and then, if we have not been kept safe enough, help decide how to respond. Perhaps it goes without saying, but all of these positions require immense preparation, and are not something one can just jump into.
Though Trump and his team have not confirmed their thinking on what they'll be doing with Monaco's position, one thing seems certain. The transition will not be a smooth one. And, in a time when terror threats seem to be ever increasing, that's a terrifying prospect.