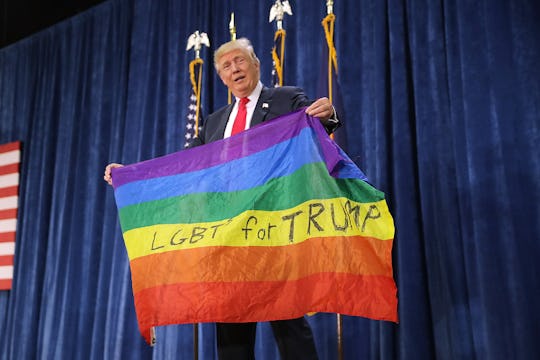 Chip Somodevilla/Getty Images News/Getty Images
Trump Might Be Among The Most Anti-LGBT Presidents Ever
President Trump was brimming with promises on the campaign trail in 2016: he was going to build a wall between Mexico and America; he was going to repeal Obamacare with something even better; and he was going to protect the LGBT community from threats. As of Wednesday morning, he made it clear he had no intention of following through on that last promise (the other two are pending, of course). When the president took to Twitter to refuse trans people the right to serve in the military, many on social media were wondering if Trump is, indeed, the most anti-LGBT president in history.
He has certainly been outed as the most anti-LGBT president in recent memory. Despite his vague assertions on the campaign trail to the contrary, he has come out against the LGBT community at every turn. Trump's decision on Wednesday to ban trans people from military service (including 15,000 trans people who are already serving), coupled with his decision to dismantle LGBT protections in Title IX, point to his discriminatory tendencies. Sure, he might try to feebly point to potential financial drains on the military budget (the largest military budget of any country on the planet by a mile), but that would ignore the sizable portion of trans people whose medical care is not costly or out of the ordinary. Because there are trans people (I shouldn't have to say this, and, yes, it is inappropriate) who do not undergo gender affirmation surgery, Trump's is clearly one that seeks to prevent any trans person from serving simply because they are trans.
Sadly, Trump is not the first president to pass blatantly anti-LGBT laws. In 1953, President Dwight Eisenhower signed an executive order which banned gay people from working in federal offices. A full 40 years later, despite serious strides in social justice for LGBT rights, President Bill Clinton signed the "Don't Ask, Don't Tell" military policy which prohibited LGBT members of the military from openly serving as gay individuals. Clinton would also go on to sign the Defense of Marriage Act in 1996, prohibiting gay marriage.
Over 20 years have passed since President Clinton's anti-LGBT executive orders. The world is meant to be moving forward, eradicating the ill-informed decisions of the past and rectifying wrongdoing. While Eisenhower and Clinton both made poor decisions during their tenure as presidents, it is the job of a modern president to learn from the past.
In other words, President Trump knows better. When he was trying to be voted in as president, he held up a gay pride flag and announced to the world that he was a "friend" to the LGBT community.
Trump spoke out about wanting to protect the rights of the LGBT community, even as he chose Mike Pence as his vice president. As Governor of Indiana, Pence voted against a law that would have banned businesses from LGBT discrimination. He also said in 2007 that he believed gay couples were a sign of "societal collapse." He voted against the repeal of "Don't Ask, Don't Tell."
And he sits by President Trump's side as a trusted adviser.
Trump might not be the only anti-LGBT president ever, but he's most certainly the most duplicitous of the bunch.