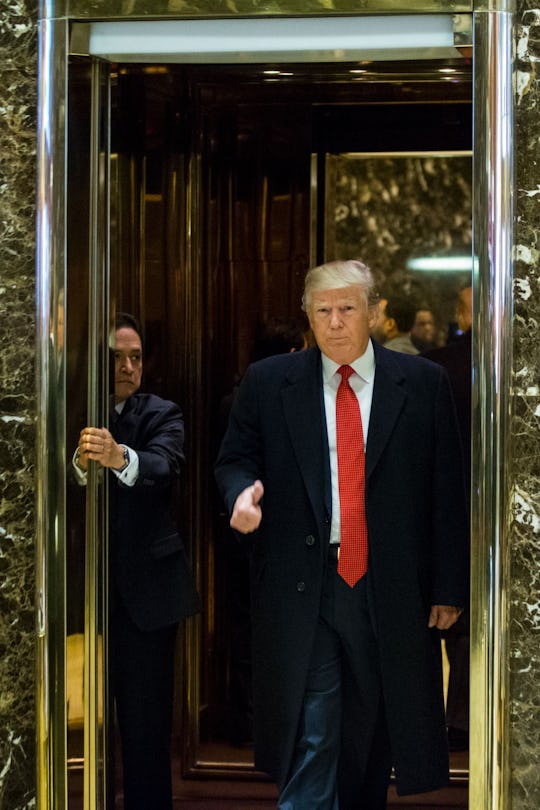 EDUARDO MUNOZ ALVAREZ/AFP/Getty Images
Is Trump Tower's Secret Service Presence Being Advertised As A Perk To Potential Buyers?
Everyone knows the Manhattan real estate game is high stakes. Even those of us who've never been there know it takes serious money to get into the market. When a buyer is looking to buy a big ticket property on Fifth Avenue, they are generally looking in the seven figure range. And that sort of money should buy some pretty serious amenities, right? Things like bidets and high efficiency appliances and Secret Service protection... wait, what? That's right, if you are in the market for a swanky condo in Trump Tower, Secret Service amenities are reportedly being advertised by outside realtors (but not necessarily Trump Tower itself) as a potential "perk."
After New York real estate mogul Donald Trump was elected as the 45th president of the United States, real estate agent Douglas Elliman reportedly sent out an email to potential buyers of a $2.1 million, 1,052-square-foot condo in Trump Tower. According to Politico, the email opened with the subject line: "Fifth Avenue Buyers Interested in Secret Service Protection?" and boasted of a great new feature in the building:
The New Aminity [sic] – The United States Secret Service.
The email was reportedly sent out on Nov. 13 by sales representatives for the Douglas Elliman Agency, Ariel Sassoon and Devin Leahy. Romper reached out to the Douglas Elliman Agency for comment, but did not immediately hear back; Representatives at Trump Tower in New York did not immediately respond to a request for confirmation.
So herein lies the rub; President-elect Trump continues to struggle to distance his identity as a businessman while establishing himself as the next Commander-in-Chief. But that might be harder than it looks, particularly if other businesses associated with Trump attempt to capitalize on his brand like this. Trump has done a fantastic marketing job selling himself as the Ultimate Businessman (and let's not forget he ran his campaign platform largely on the basis of his business success, since he has zero experience in the political forum).
But while realtors might be seizing on the cache of having a future president in the neighborhood, Trump himself has taken steps to reassure the American people that running the country will be his only concern and there will not be any issues of impropriety when he steps into the Oval Office in 2017.
While Trump will be relocating after his inauguration to the White House, future First Lady Melania Trump and their son Barron are expected to stay on at Trump Tower so that Barron can finish school. Which means Trump Tower will continue to be protected by the Secret Service at the low, low price of $3 million dollars per year, which will come out of the taxpayers' pockets, according to New York City Mayor Bill de Blasio. Mayor de Blasio has requested 35 million dollars from the federal government to help offset the cost of guarding the building. Representatives for Trump did not immediately return earlier requests for comment on whether the costs for Secret Service renting space might be lowered or offset in some way.
Not everyone living in Trump Tower (which Trump bought 33 years ago) is loving this fresh "new amenity", apparently; Debra Stotts, a realtor for Town Residential brokerage, told Politico that Trump's brand only appeals to about 50 percent of potential buyers looking to purchase one of the 263 individually-owned units in Trump Tower:
Honestly, it's 50-50 just like the polls, there are those who flee, there are those who are going to the building and want to be associated with Trump as a winner.
Whether or not it will continue to be a 50-50 split after the joyous addition of solemn-looking Secret Service agents patrolling the halls remains to be seen.