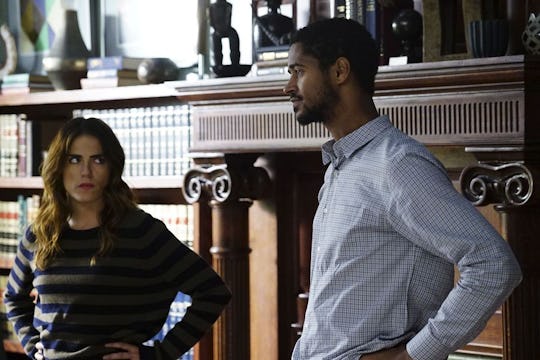 Richard Cartwright/ABC
Is Wes The Father Of Laurel's Baby On 'How To Get Away With Murder'? It's Very Likely
We're six episodes into the third season of How to Get Away with Murder and with every passing week there seems to be a new twist. Viewers began the season knowing someone would end up dead in the next six weeks. And while the series has been keeping the identity of the deceased under lock and key, the writers have slowly started revealing who's not dead, one by one. Just take Laurel, for example. She may have been in Annalise's house when it burned down, but she managed to survive — which is especially good news considering she is pregnant. And while at first many thought Frank could be the father of her baby, based on recent events it seems fair to assume Wes is the father of Laurel's baby on How to Get Away with Murder.
Since they kissed during Season 2, Wes and Laurel's friendship always seemed to be a bit more. At the start of Season 3, Wes was dating Meggy, a medical school student who had no idea what kind of mess she was walking into, but you could tell there were still some lingering feelings that existed between Wes and Laurel. So much so that Meggy even noticed it and called Wes out on it. He denied it, of course, but it was clear to pretty much everyone else that Laurel and Wes thought of each other as more than just friends. Finally, during last Thursday's episode, the two of them gave into their feelings and hooked up for the very first time.
After Wes spent the whole episode hiding from the NYPD, he went to Laurel's apartment to destroy the recording of Frank admitting to killing his dad, Wallace Mahoney. Wes believed Laurel was trying to protect Frank because she was still in love with him, but she assured him that she didn't feel that way about Frank anymore. Even though she didn't say she was in love with Wes now, she did kiss him, which basically said it all. Thinking Wes was still with Meggy she pulled away. But then Wes let her know he and Meggy broke up and thus any walls still standing between them shattered, which resulted in Wes and Laurel finally having sex.
With only two more weeks left before we find out who's under the sheet, it seems very unlikely that Laurel will hook up with Frank in that time. That would be a slap in the face to Wes, honestly. So it seems pretty clear that Wes is, in fact, the father of Laurel's baby. Now the only question that remains is whether or not Wes is the one under the sheet? I suppose everyone will just have to wait and see.