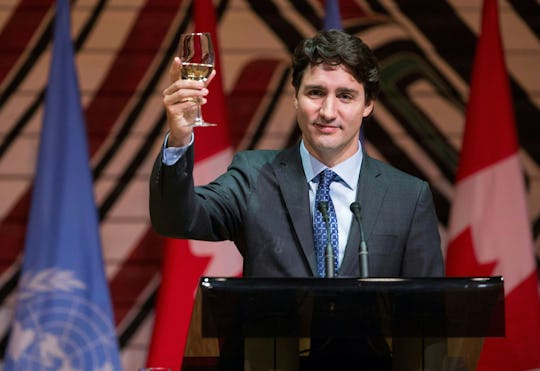 CHRIS ROUSSAKIS/AFP/Getty Images
Is Will Conway From 'House of Cards' Based On Justin Trudeau? The Similarities Are Striking
There's a new character on House of Cards and he's looking sort of familiar to some people north of the U.S. border. Like, spooky familiar. He's young and handsome, and he's giving Frank Underwood (President of the United States, Master Schemer, and lover of video games) a real run for his money. He's the GOP candidate, a young Republican governor of New York. And he seems an awful lot like the Canadian Prime Minister. Could it be true? So is House of Cards' Will Conway based on Justin Trudeau, the Canadian Prime Minister? There's something going on there, for sure.
Will Conway is changing the game for the Underwoods in Season 4. (Spoiler alert for those who didn't binge all of House of Cards when it came out on March 4.) His digital battlefield is completely unfamiliar territory to Frank and Claire. Frank has always been about subterfuge, about lying and scheming in a private, underhanded way. He has an intense, small circle of confidantes that appears to be ever shrinking (RIP Meechum). And while he would be happy enough if the public liked him, he doesn't really do much to gain their love. Their support, yes — he wants that only because it means he stays in a position of power. But actually connecting with the human beings who would be voting for him? Ew.
But that's not how Conway operates. He has youth and vision on his side. Much like the Canadian Prime Minister. Anyone else notice the similarities?
They're Both Young & Handsome
I know that maybe doesn't seem like a big deal, but look guys, just look!
Here's Justin Trudeau.
And here is Will Conway.
Neither Of Them Shy Away From Public Scrutiny
Quite the opposite, in fact. Trudeau won his campaign to become Prime Minister last year largely because he was connecting with people. He is busy on Instagram and Twitter. He is dilligent about his Facebook feed, with about 176,000 followers. He's not afraid to be seen as a modern, accessible man who is "just one of us." And his predecessor... well, let's just say he was a bit more private. Conservative. Stodgy, if you will.
The same holds true for Conway. From his first scene in House of Cards, he makes it clear that he is comfortable sharing every aspect of his life with the public — even bringing his wife and kids in on the action.
But that wouldn't really be Underwood's style. Can you picture Frank and Claire taking selfies with the public? Nope.
They Are Both Married To Beautiful Women With Accents
Conway is married to a British woman named Hannah, and Justin Trudeau's wife Sophie Gregoire-Trudeau is French-Canadian. And, even weirder, Trudeau and his wife were featured in Vanity Fair last December looking super hot and in love.
And guess what, guys? The Conways also do a shoot for Vanity Fair on House of Cards, looking super hot and in love.
The Public Pretty Much Loves Them
There's a thing called Trudeaumania in Canada. It's actually a reboot from when Trudeau's father Pierre was the Prime Minister in the swinging '60s, but it's seen a resurgence. Trudeau is everywhere and people still can't get enough of him.
Word on the street is, Trudeamania might be about to hit the U.S. And House of Cards fans are feeling the same way about the Conways.
People Are Skeptical Of Their Lack Of Experience
When Trudeau was running his campaign in 2015, his opponent ran an attack ad called "He's just not ready." Underwood has the same feeling about Conway.
Conway's character in the series is fascinating. He is using social media in a new way that is both brilliant and menacing. And, while I think he is loosely based on Trudeau, I'm hoping there are a few differences. Either way, I'll be watching for more parallels as I continue my binge on Netflix.