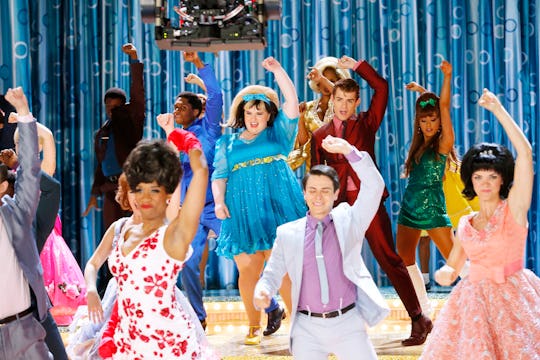 NBC/Trae Patton
Is Zac Efron Watching 'Hairspray Live!'? Twitter Misses The Movie Link
Even though the original Hairspray took place back in the '80s, everyone tends to remember the 2007 version featuring Zac Efron as Link Larkin. (And can you blame them?) So, since the live musical airs tonight, many are wondering: is Zac Efron watching Hairspray Live!? Twitter is especially curious whether or not Efron is tuning in, as they miss their "original" Link. Most of the viewers tuning in to Hairspray Live! have likely seen the 2007 movie above all else, so the comparisons are bound to come, and playing a role that was previously filled by Efron isn't easy for anybody to take on, much less someone like Garrett Clayton, someone who not everyone is totally familiar with.
Efron has been pretty silent about the NBC special, so it's unclear if he's watching Hairspray Live!, but he's probably fine with passing the torch to his younger would-be twin. It's the viewers and fans who seem to be missing Efron in the role most, despite Clayton's efforts. Although Efron hasn't really said anything one way or the other about Hairspray Live! or the new Link, Twitter is blowing up with their declarations of love for the movie Link versus the TV musical Link, but we can all agree that there is enough Link to go around, right? Maybe?
It's hard not to almost immediately compare Hairspray Live! to the most recent movie version, especially when it comes to comparing what some have seen as more lackluster performances to those of a rehearsed and edited movie that wasn't live at all. And apparently, the Hairspray movie fans want what they want:
If Efron wasn't available to reprise his role of Link on Hairspray Live! though, Clayton is a close second. And he's doing a fantastic, fantastic job. Like Efron, he's of the blue-eyed dreamboat variety. But when it comes to a live musical, you might need more than Ken Doll good looks to fill the shoes of your predecessor — at least, that's what Twitter seems to think, anyway.
Efron has also been busy filming his latest movie, The Greatest Showman, and promoting the Baywatch movie, so you can't really blame him for not getting the Hairspray Live! fever. And he might not be Efron when it comes to Link's voice and dance moves, but Clayton has experience with Teen Beach Movie and its sequel, so he didn't come into this thing blind.