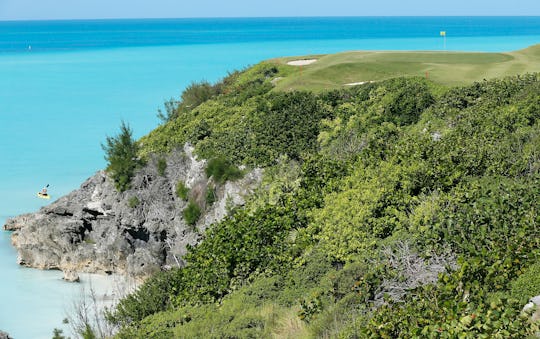 Scott Halleran/Getty Images Sport/Getty Images
Is Zika In Bermuda? The Government Just Reported A Few Confirmed Cases
Bermuda is one destination that's been topping the lists of Zika-free places to travel this summer, but it looks like things have changed. The government of Bermuda confirmed several suspected cases of Zika as of this morning, in a statement released by the Ministry of Health, Seniors, and Environment.
Bermuda is a British Island Territory made up of 138 islands in the Atlantic Ocean, about 1,034 miles off the east coast of the United States. It's known for having a unique blend of American and British culture. You can travel there if you have a U.S., U.K., or Canadian passport without requiring a visa.
Given its subtropical climate, rich culture, and gorgeous beaches, it's a very popular travel destination for people from all over the world. Knowing this, the ministry of health has been taking steps to keep Zika away from the islands. Back in May, the ministry released an advisory for citizens as well as any folks who might be planning to travel there throughout the year, reiterating much of what we already know about how Zika spreads through mosquitoes, sexual activity and body fluids:
Good travel health habits, local mosquito control and prevention of mosquito bites, at home and when traveling, are essential to assure that the Zika virus never arrives on our shores. The greatest threat of importing Zika virus comes from travel to areas of the world where mosquitos carrying the virus are present. Zika virus disease [Zika] is spread to people primarily through the bite of an infected Aedes species mosquito.
The type of mosquito most frequently linked to Zika is not found in Bermuda, but several other types in the Aedes family of mosquitoes are, and they have the potential to spread the virus, too. That means that, as would be true in other places where Zika has been found, taking care to avoid mosquito bites continues to be important for travelers and year-round residents alike.
While the government hasn't (and likely won't, due to patient privacy) released any specifics about the suspected Zika cases this week, they have said that those believed to have the virus had recently returned from traveling abroad, meaning that they didn't contract the virus in Bermuda. The problem is, once people who are carrying Zika arrive, it will be possible for it to spread to others.
The Royal Gazette, a local newspaper in Brazil, also reported on the suspected cases and printed information from the Ministry of Health's recommendations, which stated that the government is "always checking properties to control mosquitoes in order to reduce the risk of onward transmission through mosquito bites," — meaning that its actively out in the community looking for mosquito breeding habitats, like standing water, and destroying them.
Zika has also been reported in several other countries that had been previously believed to be virus-free: among them Argentina, the U.S. Virgin Islands and Puerto Rico.