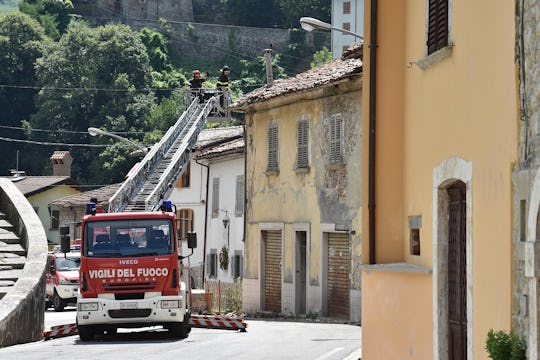 Giuseppe Bellini/Getty Images News/Getty Images
Italy Earthquake Death Toll Rises As Clean-up Efforts Continue
In central Italy over the past few days, there have been stories of unbelievable courage and kindness: The teenagers who set up an impromptu emergency rescue camp in a field outside their destroyed village. People who have opened their homes to perfect strangers who have found themselves homeless overnight. A little girl pulled out from the rubble of a building after being trapped for 17 hours by tireless, determined rescue workers. But mostly, the news out of Italy has been grim. The death toll from the Italy earthquakes continues to rise, as tiny villages are cut off from rescue crews by landslides.
A 6.2 magnitude earthquake shook three ancient, hilltop towns in Italy on Wednesday, and the aftershocks have continued well into Thursday with a 4.1 magnitude rocking the rescue teams searching through rubble for survivors. The towns of Amatrice, Accumoli and Arquata del Tronto were the hardest hit in the earthquakes, with the death toll sitting at 250 people lost and climbing.
While the hours tick by in a race against time to find survivors, the towns (situated at the top of winding, narrow roads) have been utterly cut off by landslides and debris. Desperate crews have been using tractors and simple farm equipment to try to get through the debris, well aware that with every hour their hopes of finding more survivors fade drastically.
While 365 people are being treated in hospital for injuries from the earthquake, there are potentially hundreds more people trapped under the rubble in the sleepy little hillside villages. Which means that the already alarming death toll will most certainly continue to rise.
According to CNN, rescue crews are determined to find more survivors despite the length of time people could have been potentially trapped. Luigi D'Angelo of Italy's Civil Protection agency said:
Many cases have shown in the past that even after two days, people can be rescued alive. So we want to continue.
The Prime Minister of Italy, Matteo Renzi, spoke to reporters in Rome this week and promised to rebuild "these beautiful towns, with their wonderful past that will never end."
The centuries-old town of Amatrice, which was preparing to celebrate a food festival this coming weekend, was essentially reduced to rubble in the quake. The death toll in that village alone sits at 200 people (the town was reportedly full of visitors). Amatrice was recently voted one of Italy's most beautiful towns to visit, with beautiful old stone buildings and a picturesque setting on top of a mountain.
Italy has seen more than its fair share of earthquakes as it sits on two fault lines. While the geography of the country makes it a seismic challenge, experts are already questioning why the buildings (particularly newer buildings like the Romolo Capranica school in Amatrice that was built in 2012, which was reduced to rubble in the earthquake) were not built to anti-seismic specifications.
Columnist Sergio Rizzo wrote in the Italian publication Corriere della Sera:
In a country where in the past 40 years there have been at least eight devastating earthquakes … the only lesson we have learned is how to save lives after the fact. We are far, far behind in the other lessons.
Whatever the case, it's likely that in the coming days, the death toll in the Italy quake will continue to climb. For now, the devastation continues.