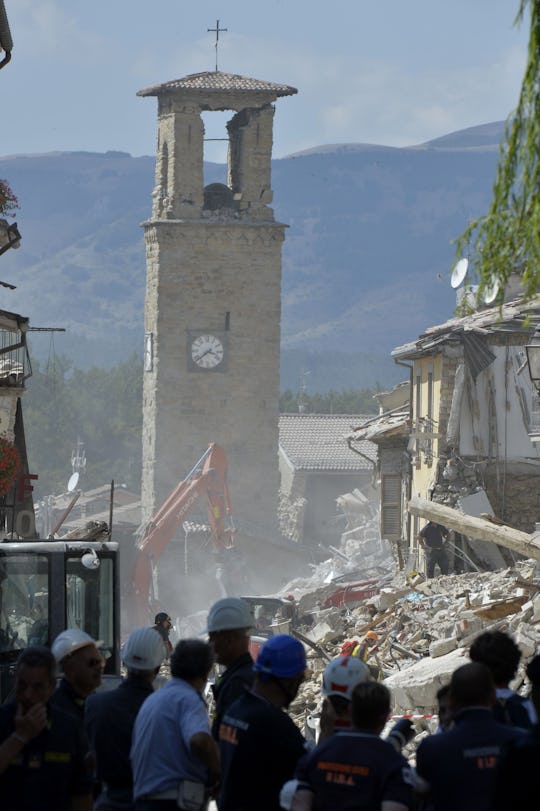 ANDREAS SOLARO/AFP/Getty Images
Italy Earthquake Updates After 3 Days Show Hundreds Dead & A Country In Mourning
Summer in Italy; who hasn't dreamt of it? The beautiful little medieval towns perched on a cliffside, the food, the people... heavenly. The summer of 2016, sadly, will be remembered for some time to come as one of the worst in decades. Three towns have essentially been flattened, hundreds have died, and thousands have been left without homes. As the sun rises on day three of rescue efforts, the Italy earthquake updates don't look too promising; death tolls continues to rise, and a country has fallen into a state of mourning.
A 6.2-magnitude earthquake devastated the towns of Amatrice, Accumoli, Arquata del Tronto, and Pescara del Tronto, which sit between 60 to 90 miles northeast of Rome. The towns, some of which still boasted buildings dating back to the 13th Century, have essentially been completely demolished. The town of Amatrice has seen the highest death toll yet, with 200 people reported dead in the village of 3,000 residents, according to USA Today. Amatrice was set to host a food festival to celebrate its famous native dish, spaghetti all'amatriciana. Many visitors were in the town for the festival. Rescue crews continued to dig through the rubble of the towns with cranes, farm equipment, and working dogs on hand, desperate to find more survivors. But as the hours tick by, their hopes fade.
Emergency teams are struggling to bypass roads that have been closed by landslides and debris from the earthquake. The geography of the villages, at the end of winding roads that climb through the mountain, has managed to cut them off from possible rescue.
The mayor of Amatrice, Sergio Pirozzi, told media outlet ANSA that the ancient village is essentially no more. "Amatrice has to be razed to the ground completely."
The only structures still standing in the town square is the Romanesque church of St. Francis. Nothing else remains. "We would like to rebuild in the same place, perhaps with the same form and with the same aesthetic," Pirozzi told ANSA.
Prime Minister Matteo Renzi has issued a state of emergency for the area. He has pledged $56 million in emergency funds as well to help with the eventual rebuilding of the area, according to USA Today.
For now, though, rebuilding is far into the future. Rescue teams, rattled by powerful aftershocks, still continue their search for survivors. As Immacolata Postiglione, chief of the Civil Protection Agency insisted on Friday, the search must go on. She told Italian media outlet ANSA:
The units that are doing the searches and rescues, including with dogs looking for other people trapped in the rubble, are absolutely fully active.
While it has been nearly two days since anyone has been pulled from the rubble alive, one 10-year-old girl was rescued from beneath a building where she had been trapped for 17 hours early Thursday morning. She is now in the hospital in stable condition.
We can only hope that more survivors will be found.