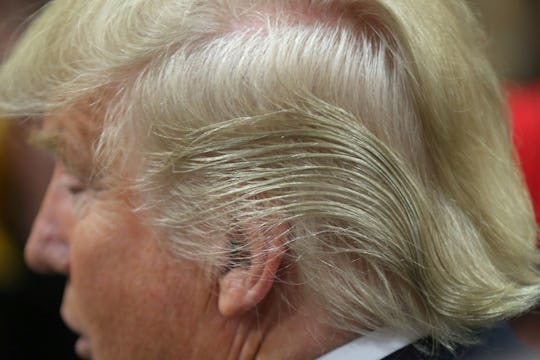 Christopher Furlong/Getty Images News/Getty Images
It's A 10's Super Bowl Ad Was Savage & Awesome AF
Most people are probably muting this runaway game between the Atlanta Falcons and the New England Patriots, and just waiting for the commercials. Super Bowl LI is all about the commercials, and one ad is just killing it on social media. It's A 10's Super Bowl ad is savage, and Twitter is all over it like white on rice.
This was the very first official Super Bowl commercial for the indie hair care brand, according to Yahoo Beauty, and the company knocked it out of the park. The South Florida company's co-founder and CEO Carolyn Aronson spoke with Yahoo Beauty before the 30-second spot was to air, and was tight-lipped about the content.
We're keeping the theme a mystery until it finally airs, but the ad is really an unveil of the brand in a big way for the very first time. It's my coming out party. I've been at the helm of this company since its inception, and there aren't many hair stylist-owned professional hair care lines.
Now that the commercial has finally aired, I can totally understand Aronson's excitement. Because the ad featured images of people with all different sorts of beautiful hair, and a plea to America to make up for what is sure to be "four years of awful hair" by keeping their own hair beautiful.
I feel like that was an awesome dig at President Trump and his infamous pompadour. And I think Twitter agrees.
Aronson told Yahoo Beauty that the ad was intended to be a "springboard the launch of our newest collection, He's a 10. Men are demanding higher quality products now more than ever and we're letting them know that we're here to provide it for them."
Do you guys think that's a personal message to Trump? Like, maybe she's willing to help him out with his up top situation (and maybe she's friends with a tie stylist, while she's at it).
A Super Bowl game featuring the New England Patriots, who managed to come out and win in a surprise twist (God, I'm sick of surprise twists, by the way), was the perfect place to send Trump not-so-subtle messages about his hair. Because, as one clever Tweeter pointed out, his hair is basically an orange version of the New England Patriots' logo.
It will be exciting to see this indie hair company (I'm going to try their leave-in conditioner, just so you know) revel in their well-earned, newfound fame. I hope everyone buys their product, and we unify this country with our luxurious hair. It will make Trump insane, i'm sure of it.