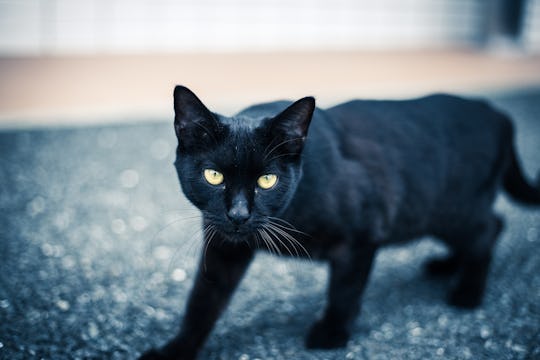 beeboys/Fotolia
7 Reasons Why Black Cats Are Awesome On Black Cat Appreciation Day (& Every Day)
All cat lovers know that their pets are special, but people lucky enough to share their home with black cats have special reason to rejoice this week. Friday, Aug. 17, is Black Cat Appreciation Day, according to the ASPCA. (My own midnight-black kitty would argue that she should be appreciated every day.) And really, it's about time black cats got their due after having gotten such a bad rap over the years.
Black cats have been associated with devil-worship and witchcraft since the Middle Ages, according to Meowington, perhaps because of their dark color and mysterious appearance. Even today, black felines still figure prominently in Halloween decorations, usually in an angry arched-back position to heighten their evil rep. Owners of black cats are cautioned to keep their pets indoors on and just before Halloween, because of the risk they might be teased or abused by bullies.
Perhaps (purr-haps?) designating a special day just for black cats will help the superstitious folks realize what we cat owners already know: Black cats can be just as sweet and lovable as any white Persian or ginger tabby. My girl escorts me to the bathroom when I come home, rubs her head against my cheek in a gesture of kitty affection, and likes to sleep against the back of my legs. She also seems to know instinctively when someone in the family is sad or sick — she'll climb into that person's lap and purr loudly.
Whether you already adore black cats or need some more convincing, these are some of the best reasons to celebrate them.