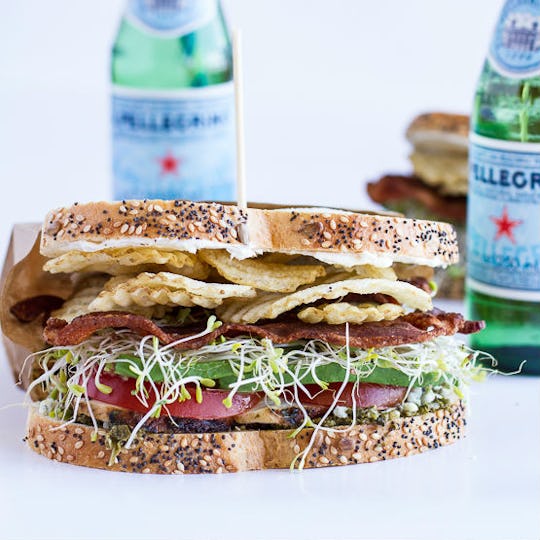 It's National Sandwich Day! 13 Mouth Watering Sandwich Recipes To Spice Up Your Lunch Today and Every Day
When it comes to lunchtime, nothing is more satisfying than a sandwich (which is probably why November 3 is National Sandwich Day.) I know salads may be slightly healthier and sushi is far more trendy, but in my mind (and stomach) there's nothing better than a delicious sandwich, especially if it has one of those fancy toothpicks in the middle because you know that means it's so full of perfect toppings that it needs some extra stability. But in order to keep this this lunchtime staple from becoming boring, you need to whip up a few new sandwich recipes every so often. 
Don't get me wrong. I have no qualms with scarfing down an old-fashioned PB&J like it's the only meal left in the world. But there's also something nice about indulging in a fancier sandwich with homemade horseradish mayo, arugula, and veggies. Sandwiches have been around forever, way before the Earl of Sandwich gave the dish its name, and it's a classic that's going to stick. Whether you prefer a simple sandwich made of white bread pared with potato chips or you want some focaccia bread loaded up with pesto and grilled veggies, there are plenty of options out there. So get out that bread knife, warm up the panini press, and pick one of these 13 delicious sandwich recipes to celebrate National Sandwich Day. In fact, make a few so you can pretend that you're also as organized as me and have your lunches planned for the week.