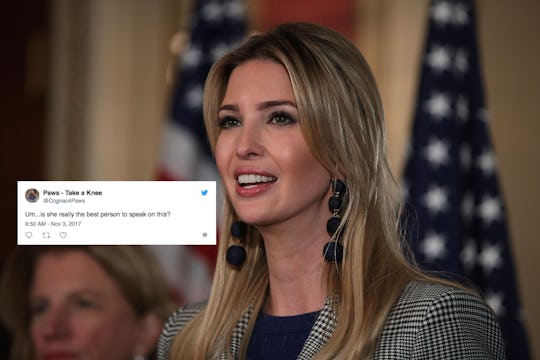 Alex Wong/Getty Images News/Getty Images
The Internet Is Not Pleased With Ivanka Trump's Speech On Workplace Sexual Harassment
On Friday, during a visit to Japan, White House advisor Ivanka Trump took to the stage at the World Assembly for Women to talk about improving women's opportunities in the workplace. Speaking to a small crowd, President Trump's daughter discussed female participation in the fields of science, technology, engineering, and mathematics, as well as her personal desire to boost the number of women-owned businesses in the United States. Ivanka Trump also discussed sexual harassment in the workplace at the assembly, and though her comments were fairly short and generic, they were met with their fair share of criticism online.
"All too often, our workplace culture fails to treat women with appropriate respect," Trump told the assembly on Friday, according to The Guardian. "This takes many forms, including harassment, which can never be tolerated."
The comment may have been prompted by the growing number of women who have come forward with sexual harassment and assault allegations against several high-profile men recently, including Harvey Weinstein, Kevin Spacey, and Brett Ratner. (To be clear, Weinstein apologized for some of his behavior, while his attorney claimed that many of the allegations against him were "patently false." Spacey apologized for one alleged incident on Twitter, although he said he did not recall it occurring, and his rep told NME he would be seeking treatment. Ratner's attorney said he "vehemently denied" all allegations, according to CNN.)
The "Me Too" movement that swept social media last month also helped make sexual harassment and assault a national conversation, and it underlined just how much needs to change for many.
The thing is, Trump's words ring hollow when her father — the president of the United States — has been accused of sexual assault or harassment by at least 17 women. Harassment cannot be tolerated, it seems, unless the harassment in question is allegedly carried out by Trump's father. President Trump has denied any misconduct.
What Trump doesn't seem to grasp about her comments in Tokyo is that, without any action to accompany them and no words of support for the women who have accused her father of harassment, they have no meaning at all. Because you can't have it both ways: you can't pretend to support all women except for those pesky 17 whose brave stories would inconvenience you and your family. You can't say you stand with survivors but then summarily dismiss an entire litany of women's harassment claims as false.
"The greatest comfort I have is the fact that I know my father," Trump told Fast Company last year. "So that gives me an ability to shrug off the things that I read about him that are wrong."
I don't think anyone can exactly fault Trump for not wanting to come out against her father in the media. If my own father were accused of sexual assault or harassment, I would have a hard enough time grappling with that privately, let alone in public.
And if the matter at hand were simply that Trump said one thing (that she stands against harassment) but didn't exactly follow through with actions to support her statements (such as speaking out against her father), that'd be fine — if she were simply Trump's daughter, connected only by her relationship with her father. But she's a public servant who is working in the White House and representing Americans.
But the thing is, during her speech, Trump also said that she joined the administration in order to advance women's rights and give them more opportunities. At the assembly, according to The Guardian, Trump said:
Because of the opportunities I've had my whole life, I felt an obligation to seize this moment and join the administration.
But considering that Trump has turned her back on an entire group of women, all she has really done is take advantage of her privilege when it works for her and ignore it when it's not convenient or easy. If Trump really did care about advancing other women's opportunities, then she should have used her privilege to recommend a woman with actual experience in advancing women's rights — one who would do more than simply issue empty statements — into her White House role instead. She wouldn't be profiting off her relationship with her father to advance her career under a guise of advancing women's rights while simultaneously ignoring them.
Until she either moves away from her governmental position or decides to actually support women, however, her words will keep ringing hollow.