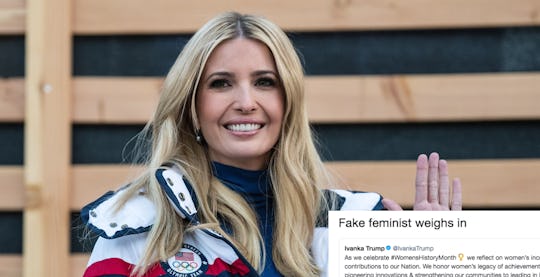 Carl Court/Getty Images News/Getty Images; Twitter
Ivanka Trump Tweeted About Women's History Month And People Are Rolling Their Eyes So Hard
March 1 marked the first day Women's History Month, a month intended to celebrate women's achievements and contributions to society. In honor of that, many took to Twitter using the hashtag #WomensHistoryMonth to share stories about notable women of the past and present. Most members of the Trump administration remained silent on the topic — an expected move, considering the low profile of women's issues on the administration's agenda. However, when daughter and adviser to the president Ivanka Trump tweeted about Women's History Month, surprise, surprise, it did not go over well.
"As we celebrate #WomensHistoryMonth we reflect on women's incredible contributions to our Nation," Trump tweeted on Thursday afternoon. "We honor women's legacy of achievements — from pioneering innovations & strengthening our communities to leading in business & politics. Women write America's proud & thriving history."
The favorite daughter of and adviser to the president has been criticized for her brand of feminism on many occasions, and this tweet was no exception. Thousands of people responded to her tweet, slamming her for things like not actually mentioning any notable women, for using generic language, for pandering to her father, and for being a "fake feminist."
Some pointed out that working for Donald Trump and being a true feminist are in fact mutually exclusive (his policy record has been described as harmful to women by American Progress).
Others noted the irony.
Some called Trump a fake feminist — the apparent ironies of her "brand" of feminism have long been noted, and commentators like Jill Fillipovic have noted that her "neotraditional marriage" simply makes old sexist ideas more palatable in an age when many women do work outside the home.
Some simply shared their truth.
And others had jokes.
Trump's brand of feminism has long been under fire. Recently, Ivanka Trump removed a line from her Twitter bio that read, "Entrepreneur + passionate advocate for the education and empowerment of women and girls." She made the bio change during the Women's March in January 2018. The internet dissected the move, wondering if the removal meant Ivanka was trying to better align with her father's administration, or if she suddenly realized that she was never really was an advocate for women and girls.
Then, in an interview with NBC in PyeongChang last month, interviewer Peter Alexander asked Trump if she believed those who accused her father of sexual misconduct. "I think it's a pretty inappropriate question to ask a daughter if she believes the accusers of her father when he has affirmatively stated that there's no truth to it," she replied. "I believe my father. I know my father. So I think I have that right as a daughter, to believe my father."
And in August 2017, Trump supported overturning an Obama-era rule that was intended to combat pay inequality affecting various minority groups. Under the policy, as explained by Newsweek, businesses would have had to record how much they pay their workers as well as their gender, race, and ethnicity. At the time, Trump defended her support of the policy by stating that she didn't think it would be effective. "Ultimately, while I believe the intention was good and agree that pay transparency is important, the proposed policy would not yield the intended results," she said in a statement, per Newsweek.
Additionally, Trump is an avowed "supporter" of the LGBTQ community, but she has not supported policy that would help LGBTQ, remaining silent when her father announced a ban on transgender soldiers serving in the military, per Newsweek.
The following month, President Trump announced his plan to ban transgender people from serving in the military. And Ivanka, the self-described supporter of LGBTQ Americans, remained silent.
Taking Ivanka Trump's past actions into account, it's really no surprise that her tweet celebrating Women's History Month landed so poorly among the disappointed masses. The idea that women write history is sadly undercut by the fact that here, now, in 2018, history is being written by a man alleged to have sexually assaulted multiple women, per CNN, and who is using his photogenic daughter to sell his agenda.
Check out Romper's new video series, Bearing The Motherload, where disagreeing parents from different sides of an issue sit down with a mediator and talk about how to support (and not judge) each other's parenting perspectives. New episodes air Mondays on Facebook.