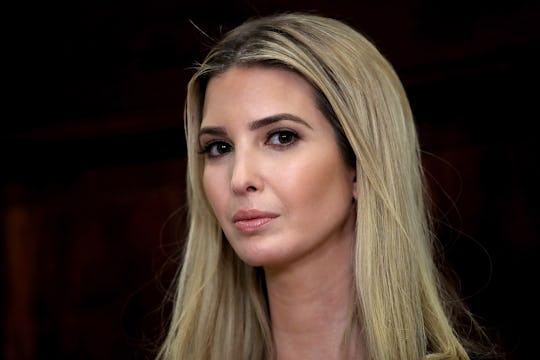 Win McNamee/Getty Images News/Getty Images
Ivanka Trump Made A Major Change To Her Twitter Profile During The Women's March
For most of her career, Ivanka Trump has situated herself as a fierce champion of women and girls. She even held onto this position tightly after her father, President Donald Trump, entered the White House and began chipping away at reproductive and human rights. But it seems Ivanka is no longer purporting to be an advocate for women and girls — well, not on social media, at least. How so? Ivanka Trump made a major change to her Twitter profile during The Women's March, and it has everyone asking: has the first daughter finally waved goodbye to feminism?
Over the weekend, while hundreds of thousands of people across the world hit the streets for the 2018 Women's March, Ivanka quietly deleted a key part of her Twitter bio, according to Vogue. The line in question? "Passionate advocate for the education and empowerment of women and girls," as well as "entrepreneur." Instead, her profile now includes the description, "Advisor to POTUS on job creation and economic empowerment, workforce development, and entrepreneurship," Vogue reported. (Romper reached out to Ivanka for comment, but has yet to hear back.)
The full bio reads, according to Ivanka's Twitter page,
Wife, mother, sister, daughter. Advisor to POTUS on job creation + economic empowerment, workforce development & entrepreneurship. Personal Pg. Views are my own
Of course, it's a bit curious why Ivanka would make such a considerable change to her Twitter bio over the weekend (her bio for her official Facebook page reads the same). After all, as Vogue pointed out, while she clicked "edit profile," millions of people were marching once again to protest her father's presidency and the regressive politics of his administration.
On Saturday and Sunday, activists in the United States and around the world gathered in the streets for the second annual Women's March, the powerful global protest that galvanized millions into action after Trump's inauguration last year. This year, local organizers registered 673 satellite protests, with nearly five million people pledging to attend, according to the Women's March website. And if coverage of the march is any indication, people showed up and showed out.
In many ways, the 2018 Women's March was special. Not only did organizers address the issues that plagued the first march to make it a more inclusive event, they also used it as an opportunity for divisive action, rather than righteous (and appropriate) outrage. The main Women's March, held this year in Las Vegas, Nevada, also kicked off #PowerToThePolls, a year-long initiative that aims to secure progressive seats in 2018, particularly in vulnerable swing states.
Maybe Ivanka's conscience got to her. Maybe, after seeing droves of people protesting, she realized she can no longer live a lie. Ivanka may have said she was a "passionate advocate for the education and empowerment of women and girls," but her actions since her father became president would suggest anything but.
When, last January, Trump reinstated a stricter version of the "global gag rule" — a damaging policy that keeps U.S. funds from foreign groups if they provide of even talk about abortions — Ivanka failed to push back. When Trump and the Republican Party tried their hardest to pass the defeated American Health Care Act, Ivanka didn't once address its potential negative impact on millions of women and children around the country. And let's not get into the joke that is the Ivanka-backed child care tax credit that does nothing to help middle- to low-income households. Or, as noted by Vogue, her silence when her father announced on Twitter (on Twitter!) that he would ban all transgender people from serving in the U.S. military.
I, for one, am happy that Ivanka has changed her Twitter profile. Granted, her father is overseeing an administration that's far from honest. But at least her bio now reflects her actions over the last year. Better to not pretend, I say.
Check out Romper's new video series, Romper's Doula Diaries:
Watch full episodes of Romper's Doula Diaries on Facebook Watch.