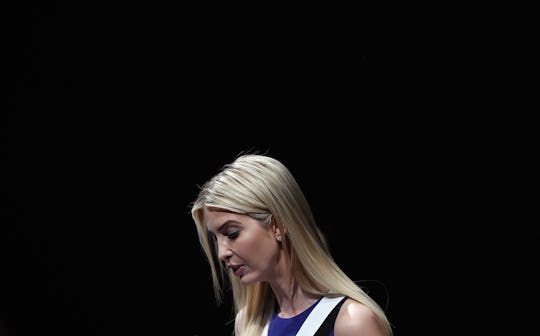 Win McNamee/Getty Images News/Getty Images
What Are Ivanka Trump's Abortion Views?
President Donald Trump's administration is a decidedly anti-abortion regime. On Thursday, Vice President Mike Pence cast a tie-breaking vote to rollback an Obama-era rule that prohibited states from defunded Planned Parenthood and other family planning clinics that also provide abortions. The day before, the White House made first child Ivanka Trump, an official employee. Trump's eldest daughter has always held herself as a champion of women, but what are Ivanka Trump's abortion views? And how will they inform the work of her father and his pals? If you look to her past statements — of lack thereof — the answer is unclear.
Last Friday, Planned Parenthood President Cecile Richards sat down with BuzzFeed News to discuss the now-defeated American Health Care Act, the GOP's ostentatious bill that would have defunded Planned Parenthood entirely. During her BuzzFeed interview, Richards said Ivanka Trump's silence over the AHCA and its potential impact on millions of Americans was "deafening" and urged the first daughter to "stand for women" as the AHCA debate waged on. The day the U.S. House was set to vote on the bill, Ivanka Trump and her family, include husband Jared Kushner, one of Trump's key advisers, were skiing in Aspen, according to Death and Taxes; Ivanka, a so-called defender of women's rights, had made no mention of the bill's chilling effects on abortion rights and preventive care before, during, or after last Friday.
Though the American Health Care Act—aka Trumpcare—didn't come to fruition, Republicans in Congress still found a way to strip Planned Parenthood of funding. Pence's tie-breaker vote on Thursday gives states the right to deny Title X funding to the reproductive and sexual healthcare organization because it offers abortion services. This action achieves a longstanding goal of the vice president, who led the crusade against Planned Parenthood since 2007. It may be the GOP's endgame to strip people of their constitutionally-protected right to abortion, but reversing the Obama administration's rule threatens a host of vital services including cancer screenings and HIV prevention and treatment. Much like with the AHCA, Ivanka Trump has yet to make a comment either for or against this assault on abortion rights and preventive care.
Her silence is not surprising, though. When her father, Trump, signed the "global gag rule" in January, Ivanka failed to push back. To some, particularly Trump supporters, it may seem naive to expect Ivanka Trump to speak out against her father's anti-abortion policies. But the fact is, Ivanka Trump has presented herself as "the feminist champion" of the Trump regime. Now that, according to Vox, she has an official, albeit unpaid, role in the White House, it's fair to expect that Ivanka will have even more of an influence over her father's actions as president. That includes taking a strong stand against anti-abortion policies that also endanger other aspects of women's health.
But don't expect to get an answer from Ivanka Trump anytime soon. According to Fortune, the first daughter has a history of deflecting questions about her views on abortion. During Fortune's Most Powerful Women Summit in October, Ivanka said she doesn't "express" her policy views unless "it relates to child care and advocating for women."
Guess no one told her that includes abortion rights.