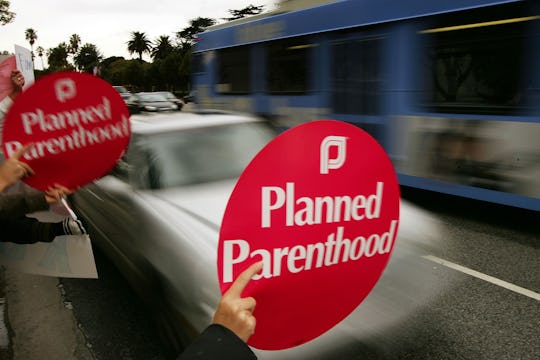 David McNew/Getty Images News/Getty Images
Title X Budget Cuts Are Bad News For Families
One of the goals of the bill that Republican lawmakers had hoped would repeal and replace the Affordable Care Act was to deprive Planned Parenthood and other abortion providers of their federal funding. This would have forced many of them to either scale back services or close, except GOP leaders couldn't amass the votes to pass the American Health Care Act in March. But on Thursday, they squeaked an anti-abortion measure that could have a similar effect through the Senate, and pave the way for individual states to deny federal Title X funds to establishments that offer this medical procedure — and they did this with full knowledge of how a Title X budget cut would affect families.
As a federal grant program established in 1970, Title X helps to ensure that low-income people have access to family planning and preventives services. These include contraceptives, STD and cancer screenings, breast exams, PAP tests, and more. And, on Thursday, legislation to permit states to deprive clinics that offer abortions, like Planned Parenthood, from collecting this money advanced from the Senate to President Donald Trump's desk for a final signature.
Republicans hold a 52-48 majority in the Senate, and two Republicans, Sens. Susan Collins of Maine and Lisa Murkowski of Alaska, deviated from the otherwise party-line vote to oppose the measure, The Los Angeles Times reported. So, noted antiabortion crusader Vice President Mike Pence cast the tie-breaking vote in its favor.
Now, after Trump signs the bill, which he is expected to do, states will regain the legal ability to withhold these funds from clinics that provide valuable medical services to some of the most vulnerable people in this country. The regulation preventing this was finalized at the end of President Barack Obama's tenure in office, and Republicans subsequently worked swiftly (and, this time, it appears, successfully) to dismantle it. According to The Washington Post, 13 states had already blocked Planned Parenthood and similar clinics from collecting these funds.
It's a dose of vindication for many conservatives in the government, whose health care bill Trump pulled from the House floor before voting to avoid its anticipated defeat. That legislation included language to withhold Medicaid funding from abortion providers. This would have been devastating, because such federal funding makes up 40 percent of Planned Parenthood's overall budget, according to Vox. And like the Title X bill that did pass Thursday, it would have worked to dramatically reduce access to reproductive health care to poor and rural women in particular.
That's because clinics like Planned Parenthood oftentimes provide the only health care available to those women, whether for economic reasons, geographical ones, or both. Clearly the Republicans in power are intent on chipping away at any and every funding source that keeps open the doors of establishments that makes abortion an accessible, affordable, option for women and families — and that's bad news for everyone involved.
And Title X helps 4.6 million people each year, according to Planned Parenthood's own data. What's more, 78 percent of those live before the federal poverty line. And, with about a quarter of Planned Parenthood's funding coming from Title X, losing that could mean that reduced access to the prenatal services, for example, that the clinics bring to many women.
According to the Center for American Progress, Title X services significantly reduce the number of unintended pregnancies, specifically among teenagers. This, in turn, means that there are fewer abortions overall when Title X funding is in place. Removing the protection against this would have obvious adverse economic effects on families dealing the the expenses associated with an unplanned pregnancy.
Simply put, depriving Planned Parenthood of these federal funds imperils the institution as a whole, which is exactly what the GOP wants to do. But it also means that Planned Parenthood and other clinics may have reduced capacity to help women decide when and whether to have children, get the preventive services and screenings they need, and much more. It would ultimately whittle away at health care options, and that's awful for individuals, families, communities, and the entire United States as a whole.