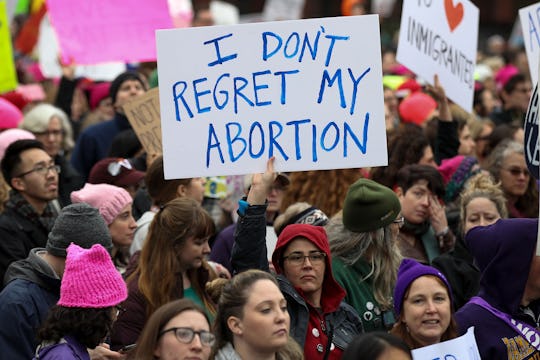 Drew Angerer/Getty Images News/Getty Images
Here's How The 2018 Women's March Is Addressing 2017's Controversies
Last January, millions of people marched in Washington, D.C. and cities around the globe to protest the inauguration of President Donald Trump and his regressive politics. This weekend, millions of activists will once again hit the streets to both commemorate the first anniversary of the Women's March and launch a year-long voter registration and mobilization campaign. But the global protest was not without its issues, which begs the question: Will organizers do anything to address the Women's March controversies of last year in their 2018 platform? The answer: In some cases.
This year's main march will see a change of venue. Instead of the nation's capitol, organizers will hold the 2018 Women's March in Las Vegas, Nevada, on Sunday, Jan. 21, a year to the date of the inaugural protests. The anniversary protest in the City of Lights will kick off #PowerToThePolls, a year-long initiative that aims to secure progressive seats in 2018, particularly in vulnerable swing states. There are also 673 satellite protests planned around the globe, according to the Women's March website.
But activists shouldn't expect the same Women's March this time around — and that's a good thing. The organizers have worked to fix some of the problems that plagued last year's event. Here's how.
Pink Cat Hats
Trump's "grab them by the pussy" comment had spurred a group of activist knitters to create the Pussyhat Project ahead of the last year's march. The goal of the initiative was to knit 1.17 million pink, cat-eared caps for people to wear at the Women's March on Washington, as well as at local protests across the country. And so it happened: The Women's March saw a sea of protesters donning pink cat hats. But, admittedly, the pink Women's March hats exclude transgender women, gender non-binary people, and women of color who do not identify with or feel unified by the symbolism. That's why, this year, many local Women's March organizers have decided to ditch the hats in a show of support, inclusion, and unity.
Excluding The Transgender Population With Sex-Based Language
But it's not only the pink cat hats that pushed transgender women and gender non-binary people to the margins of the Women's March. As Mic explained last year, genital-based language also shut out transgender and gender non-binary people. Think of sign phrases like "Pussy Power," "This Pussy is Not Your Property," "Viva la Vulva," and "Pussy Grabs Back," according to Mic. A number of people at the women's march also dressed up like vulvas.
In a recent interview with USA Today, Women's March on Washington co-president Tamika Mallory acknowledged that the organizers — and the march as a whole — need to have "a greater focus on our relationship with the trans community." That includes minimizing vagina-related messaging, in addition to partnering with more transgender organizations (this doesn't mean the Women's March doesn't have a long way to go towards including trans voices). Mallory continued,
[T]his year we are being very intentional about engaging the trans community and figuring out better ways to be a stronger partner.
Ties To The Boycott, Divestment & Sanctions Movement
Last year, Palestinian-American activist and Women's March co-president Linda Sarsour was accused of being anti-Semitic, having ties to Hamas, and supporting the Boycott, Divestment and Sanctions (BDS) movement, a global campaign advocating that countries put economic and political pressure on Israel to stop human rights abuses, and recognize Palestinian rights and statehood, according to Snopes. Sarsour had become a controversial figure in activist circles, and these accusations — as well as her open criticism of Israel and Zionism — had led to a heated debate over the Israel-Palestine conflict and its place within the Women's March, and feminism more broadly. It doesn't seem the Women's March organizers have addressed this controversy in their 2018 platform, so it would be interesting to see if the same issues arise this year during or after the march.
Trump's inauguration had lit a fire in millions of people across the globe, and the events of the last 365 days have only fanned those flames. Let's hope that this year's protest isn't marred by controversy — and is a far better version of itself.
Check out Romper's new video series, Romper's Doula Diaries:
Watch full episodes of Romper's Doula Diaries on Facebook Watch.