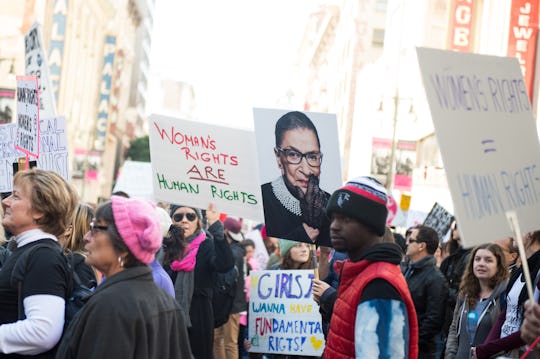 Emma McIntyre/Getty Images Entertainment/Getty Images
Quotes For Your Women's March Signs That Make A Powerful Statement
Last January, millions of people marched in Washington, D.C. and cities around the globe in a show of dissent against President Donald Trump and his regressive administration. And on January 21, 2018, millions of activists will once again hit the streets, this time to commemorate the first-year anniversary of the historic Women's March. Attending one of this year's protests? Then consider using one of these five powerful quotes for your 2018 Women's March sign.
The main 2018 Women's March will take place in Las Vegas, Nevada on that Sunday, a year to the date of the inaugural protest, according to Elle. This year's event will kick off the Women's March 2018 initiative, #PowerToThePolls, a year-long, nationwide voter registration and mobilization campaign that seeks to build support for progressive candidates and secure progressive seats in 2018, particularly in vulnerable swing states. The organizers chose Nevada to launch the #PowerToThePolls initiative because, according to the Women's March website,
Nevada has recent experience with some of the most pressing issues facing women in our nation today, from gun violence to politicians accused of sexual assault. As a swing-state that will shape the Senate in 2018 and as home to a strong activist network, Nevada is the perfect place to commemorate the Women's March and continue building our electoral power.
These five quotes capture the essence of #PowerToThePolls' message, and will make powerful statements as millions march in the streets.
"Nevertheless, she persisted."
Last February, when Massachusetts Sen. Elizabeth Warren took the floor during U.S. Attorney General Jeff Sessions' nomination hearing, she was silenced. Her fellow senator, Majority Leader Mitch McConnell, shut down Warren's criticisms of Sessions, justifying his actions with three words: "Nevertheless, she's persisted." McConnell's (frankly sexist) reasoning became a battle cry for the feminist movement, and I suspect there will be a sea of signs brandished with the phrase.
"Reclaiming my time."
If you didn't already know, you should never come for California Rep. Maxine Waters. The Democratic lawmaker will not shy away from telling the (blunt) truth and calling you out when necessary. And that's exactly what Waters did in July during a House Financial Services Committee hearing when she confronted Treasury Secretary Steve Mnuchin, according to Vox. Mnuchin, for some reason, thought he could stall by peppering Waters with compliments, but the congressperson was not having it. So she let Mnuchin know that she was "reclaiming my time." The three-way phrase became another rallying cry for every non-ciswhitedude who's fed up with being bulldozed.
"When the powerful use their position to bully others, we all lose."
At last year's Golden Globes, award-winning actor Meryl Streep delivered a profound, empowering acceptance speech criticizing Trump, his behavior, and his harmful policies. Streep, who's been nominated for a Golden Globe 30 times, struck a cord with viewers when she laid out the implications of his presidency while accepting the 2017 Cecil B. DeMille Lifetime Achievement Award. Little did Streep know that her words about Trump would also apply to a millions-strong movement calling out the sexism, racism, inequality, harassment, and abuse in Hollywood and industries across the board.
"Me, too."
Ten years ago, activist and all-around badass Tarana Burke started #MeToo as a way to support, help, and mobilize survivors of sexual harassment and assault. In October, Burke witnessed her movement go viral around the world after actor and fellow activist Alyssa Milano tweeted a call-to-arms following mounting sexual abuse allegations against Hollywood producer Harvey Weinstein. Many people, including this writer, have their own #MeToo stories.
What better place than the Women's March to show that solidarity with Burke, with survivors, and with yourself.
"I choose my motherfucking self."
Self-love is a revolutionary act, especially if you are a woman of color. In her new memoir, We're Going To Need More Wine, award-winning actor and activist Gabrielle Union-Wade talks about her journey to accepting herself, loving herself, and putting herself first, according to Refinery29. Honestly, I can't think of a better quote to use for the Women's March to promote the importance of radical self-love in Trump's America.
This should go without saying: If you use any of these quotes, make sure to give credit where credit's due. Except for McConnell; he doesn't deserve credit for anything.
Check out Romper's new video series, Romper's Doula Diaries:
Watch full episodes of Romper's Doula Diaries on Facebook Watch.