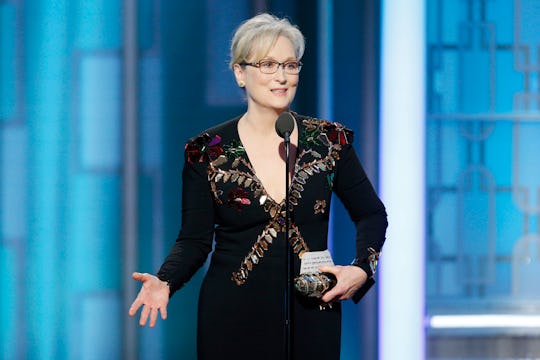 Handout/Getty Images Entertainment/Getty Images
How To Rewatch Meryl Streep's Show-Stopping Speech
There were more than a few memorable moments during the 74th Annual Golden Globe Awards. However, Meryl Streep's acceptance speech for the annual Cecil B. DeMille Award will be talked about for days, weeks, months, if not decades to come. If you missed it, you absolutely need to rewatch Meryl Streep's speech at the Golden Globes. It's a game changer.
Viewers were already on the verge of tears after Viola Davis gave a moving speech about Streep as the introduction to Streep receiving the award. Streep, who's been nominated for a Golden Globe 30 times, has always been outspoken about her thoughts on everything from politics to feminism, and it wasn't all that surprising that she chose to use this opportunity to make an empowering speech.
The actress began her speech by describing how she, along with many other actors, come from various different places around the world to play characters with different backgrounds than their own. She then went on to say how, if one were to get rid of all the foreigners, there wouldn't be any more great films and shows to watch. The dig at president-elect Donald Trump was clear to everyone and became even clearer when she practically called him out by name. You can watch the full clip of her speech, below:
In her speech, Streep reminded us all of the time Trump mocked a disabled reporter during a political rally, and asked us to care for and support our journalists, especially in the future. She even gave a little shout out to the Committee to Protect Journalists, which many writers greatly appreciated.
Streep then started to wrap up her speech by asking us all to be a bit more empathetic and reminding us that, "Disrespect invites disrespect, [and] violence incites violence." She then concluded by quoting the late Carrie Fisher who once told her to, "Take your broken heart, make it into art."
Of course, the actress' words didn't sit well with Trump supporters and popular conservative journalist Tomi Lahren has already promised to do a video segment about the speech.
Whether or not you agree with what Streep had to say, it definitely got the world talking. Even if you've already seen it, her speech definitely worth another watch. Plus, you may need the refresher once Trump makes his official Twitter response to Streep's remarks. Because let's face it, we all know he'll have something to say about this one.