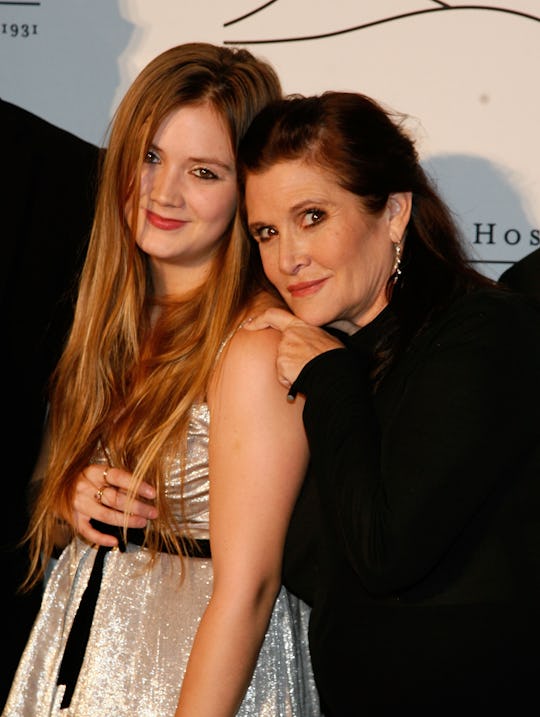 Andy Kropa/Getty Images Entertainment/Getty Images
Carrie Fisher Parenting Quotes That Are Inspiring
At 8:55 a.m. PST on Tuesday morning, Dec. 27, Carrie Fisher, best known for her role in the Star Wars franchise as Princess Leia, died from a heart attack. She leaves behind her daughter, actress Billie Lourd (of Scream Queens fame), but it's these Carrie Fisher quotes about parenting that prove how much motherhood really meant to the actress. Right until the end, the Stars Wars actress was every bit as spunky and outspoken as dedicated and loyal fans have come to expect from her throughout the years. And in recent years, Lourd has taken to acting as well, following in her mother's footsteps by starring on the FOX horror-comedy Scream Queens, playing a character who is known for wearing ear muffs at all times, a la Princess Leia and those cinnamon buns she's become so famous for. (Like mother, like daughter!)
So it should really come as no shock that Fisher had been outspoken about parenting too and about supporting her daughter as she embarked on her own acting career. In fact, both Lourd and Fisher appeared in Star Wars: The Force Awakens, the seventh installment of the franchise as Princess Leia and Lieutenant Connix, respectively. And just this past October, Fisher was praising her daughter for her accomplishments, via Twitter, writing, "What's happening twitter asks? My daughter Billie Lourd from Scream Queens. She's MUCH more than my kid. Witty & pretty, I aspire 2 deserve her."
Fisher, who was 60 at the time of her death, was well into her career when she had her first and only child. And when she was asked by The Wall Street Journal in December of 2015 what she made of the hooplah that still surrounds Princess Leia wearing the small, gold bikini that became almost as iconic as her long white dress and buns in her hair, she was quick with her comeback:
The father who flipped out about [the bikini], 'What am I going to tell my kid about why she's in that outfit?' Tell them that a giant slug captured me and forced me to wear that stupid outfit, and then I killed him because I didn't like it. And then I took it off. Backstage.
But Fisher had a special relationship with her own famous mother, Debbie Reynolds, who she presented with a SAG Lifetime Achievement Award in 2015. During her speech for her mother, she said that over the years, Reynolds had been more than a mother to her and clearly that is the relationship that transferred over to her bond with her own daughter.
Fisher was never shy about her depression or bipolar disorder and spoke out about what she'd gone through as a child actor, but also as an adult trying to figure things out for herself. In fact, during an appearance on The Today Show, Al Roker asked her about child stars and all that they go through. It was like Fisher was the honorary mama bear for child actors everywhere. "It's hard, especially at a young age," she remarked. "They're going through their adolescence in front of all of us — without their underwear on."
If you look at Fisher's social media account, you'll see lots of funny anecdotes about people she's met and plenty of pictures of her bulldog Gary, but you'll also see tons of tweets praising Lourd for her accomplishments and lots of photos of the two of them together and bonding in a way only a mother and daughter can.
It's painfully obvious how close the pair were as both mother and daughter and friends. When Fisher spoke to People magazine in 2013 about her bipolar disorder and using comedy to cope with it, it's almost as if she used the same light-hearted mechanism to praise her daughter. "That's my way of surviving," she said. "To abstract it into something that's funny and not dangerous."
It's obvious that aside from acting and playing one of the most iconic roles to date, Fisher was also a dog-loving, social media-praising mom whose pride in Lourd and her own rising stardom was crystal clear. Our thoughts go out to Lourd and the rest of Fisher's family at this time — because as you can clearly see, she was someone who will be greatly missed.