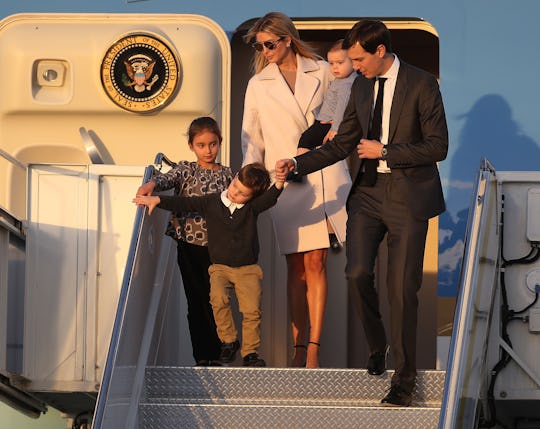 Joe Raedle/Getty Images News/Getty Images
Ivanka's Child Care Plan Falls Short For Many Moms
Child care is out of reach for the average family in the United States. The U.S. Department of Health and Human Services suggests child care should take up no more than 7 percent of a household's income. Yet, most families spend double that on daycares and preschools. Other parents are forced to quit their jobs because they can't afford the expense in the first place. On the campaign trail, President Donald Trump promised to ease the burden of child care costs based on policy promoted by his daughter, Ivanka. But there's one big way Ivanka Trump's child care plan doesn't help moms: It will only benefit high earners.
The first daughter met with members of Congress last week to push for the inclusion of her proposed child care policy into their tax reform package, Bloomberg reported Thursday. The plan, which is expected to cost $500 billion over a decade, deviates little from the policy her father introduced this fall. Under Ivanka's proposed plan, couples earning less than $500,000 a year ($250,000 for individual parents) would be able to write off child care expenses on their income taxes. Families who earn too little to pay income taxes — 45 percent of American households, according to the Tax Policy Center — would instead be eligible for a larger Earned Income Tax Credit, Fortune reports. If Ivanka's plan follows that of her father's, that would mean a low-income parent could only receive up to $1,200 in EITC spending rebates.
That hardly puts a dent in child care expenses for working-class and low-income parents. Although HHS set the standard for child care affordability at 7 percent or below of a families' income, parents in 49 states and the District of Columbia are paying much more than that, according to ChildCare Aware of America. Washington, D.C., where Ivanka and her family now live, has the highest child care costs in the country; an average family in the nation's capitol spends more than 35 percent of its income on infant care, according to the Economic Policy Institute. EPI also found that child care in the District of Columbia and 33 states also costs far more than what a person would pay for in-state tuition at a public college.
In other words, contrary to what Ivanka asserts, middle-class and high-earning families who are more likely to afford child care will benefit most from her child care proposal. Working-class and low-income families who are struggling to pay for child care are far less likely to feel relief. Victoria A. Budson, the founder and executive director of the Women and Public Policy Program at the Harvard Kennedy School of Government, told Glamour,
The policy is set up so it helps middle-class and wealthy families and provides very little assistance to lower-wage working parents. ... It does state that they would receive earned income tax credit increase, but what it doesn't do is broadly provide adequate relief to the poorest of our working parents.
Research shows that child care is beneficial for infants and toddlers, as well as their parents. Child care allows parents to return to work sooner, which, in turn, increases their lifetime earnings and boosts the nationwide economy, according to ChildCare Aware of America. It also improves health outcomes and brain developments because kids have access to nutritious meals and early learning. Yet, most families in the United States are shut out from using child care services because of the astronomical costs.
If Ivanka Trump is so concerned with getting women back into the workforce, then she wouldn't push a plan that only benefits wealthier working mothers like her. But what she has proposed goes to show that she and the administration might not have a grasp on just how much child care is financially inaccessible for the families they want to help.