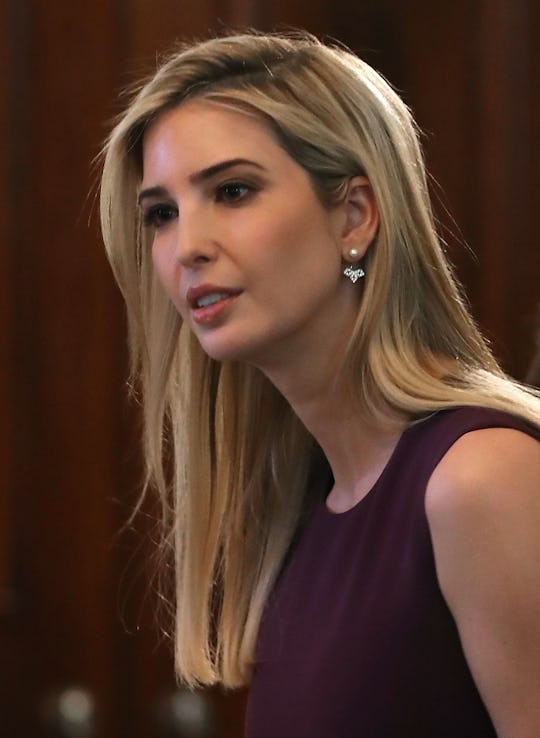 Mark Wilson/Getty Images News/Getty Images
Ivanka Trump Won't Be Promoting Her New Book
It seems like such a long time ago that Ivanka Trump was a successful entrepreneur and fashion designer. These days, of course, she is something quite different. An adviser to her father, President Donald Trump, first and foremost. Or so it seems. In a recent Facebook posting, Ivanka Trump wrote that she would not promote her new book because of "ethics" concerns — a book she started writing back in the halcyon days in 2015, when her father was still a real estate mogul, and she was still being held up as an example of a strong-minded working mother to many people around the country.
Ivanka Trump's second self-help book, Women Who Work: Rewriting the Rules of Success, would normally be promoted through a book tour, a series of interviews where she could undoubtedly cross-promote her eponymous clothing line by looking amazing in everything, as well as book signings for fans of her popular lifestyle brand. None of that will be taking place, according to her Facebook post on Thursday, because of her new role as White House adviser.
In light of government ethics rules, I want to be clear that this book is a personal project. I wrote it at a different time in my life, from the perspective of an executive and an entrepreneur, and the manuscript was completed before the election last November. Out of an abundance of caution and to avoid the appearance of using my official role to promote the book, I will not publicize the book through a promotional tour or media appearances.
Trump also noted that she will be donating any of the "unpaid portion of her advance" and other money to a charitable organization she has founded:
In order to extend the reach of those who will benefit from this book, I have established the Ivanka M. Trump Charitable Fund to receive the unpaid portion of my advance and future royalties received from Women Who Work and to make grants to charitable organizations that support the economic empowerment for women and girls.
She noted that the first two organizations to receive funds from the charitable organization would be The National Urban League and the Boys & Girls Club of America (each will receive $100,000).
Ivanka Trump's first book, The Trump Card: Playing To Win In Work And Life, made it on to The New York Times bestsellers list. Now she will be forgoing her book tour in favor of generally cropping up slightly behind people in awkward White House photos.
It's possible the famous first daughter is a little gun shy when it comes to questions of ethics after questions were raised about three of her brand trademarks which were miraculously approved in China — right before she had dinner with her father and Chinese President Xi Jinping at Mar-a-Lago, no less.
Now that she doesn't have to worry about promoting her book (which was edited in March with a new foreword I'm sort of dying to read), Ivanka can focus on her upcoming diplomatic visit to the G20 Summit in Berlin. The mother of three is scheduled to speak on a panel alongside German Chancellor (and noted Trump enthusiast) Angela Merkel.
The world will be waiting with bated breath to see how their handshake turns out.