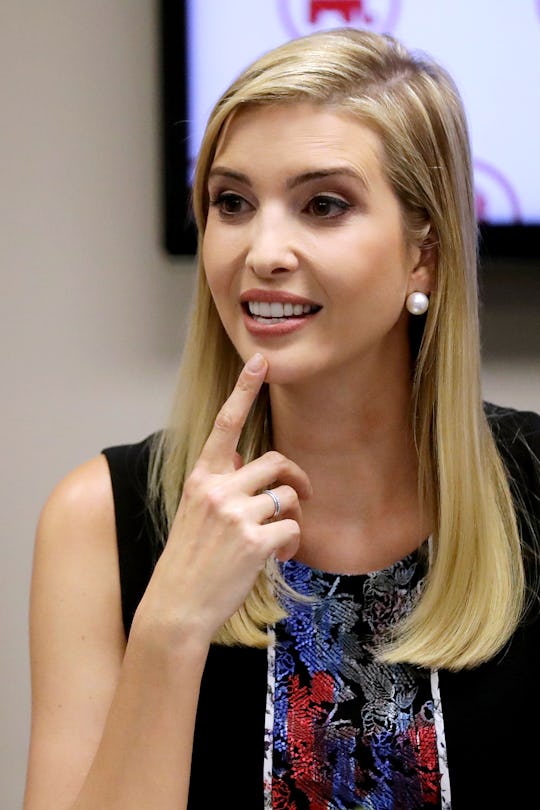 Chip Somodevilla/Getty Images News/Getty Images
Ivanka Trump's Response To Her Father's Lewd Comments Is Somewhat Disappointing
We've probably all been embarrassed by a relative at some point. An uncle gets drunk and says something mildly offensive. An aunt calls one of your friends "that fat girl you know" and you want to curl up and die of embarrassment. The truth is, we can't control our relatives and the crazy nonsense that comes out of their mouths sometimes. But we can control the way we respond. So when Ivanka Trump responded to the now infamous Trump Tape after weeks of silence, it was disappointing to hear such a lukewarm response from someone in a position of potential positive influence. Particularly when that person is a businesswoman who presents herself as an advocate for women in the workplace.
The Trump Tape, the tape where GOP presidential candidate (and father to Ivanka) Donald Trump is heard making incredibly offensive remarks about women, was released by The Washington Post two weeks ago. Trump is heard discussing women with former Access Hollywood host Billy Bush, telling Bush that he likes to kiss beautiful women without their permission and that his position of power allows him to do whatever he likes to these women, including "grabbing them by the p---y". Trump himself has offered a halfhearted apology for the remarks while simultaneously dismissing them as "locker room" banter.
Ivanka Trump, whose brand created the #WomenWhoWork movement, offered this statement to Fast Company in her father's defense:
My father's comments were clearly inappropriate and offensive, and I'm glad that he acknowledged this fact with an immediate apology to my family and the American people.
Ivanka has tried time and again to paint a picture of her father as a feminist, highlighting his plans for paid family leave (for six weeks and only for mothers), as well as pointing to her own history of working in her father's company. But her lukewarm, watered-down response to her father's vile comments about women ring false. In her interview with Fast Company, Ivanka went on to explain that she really understands her father and takes comfort in that.
The greatest comfort I have is the fact that I know my father. Most of the people who write about him don't. I do. So that gives me an ability to shrug off the things that I read about him that are wrong.
Ivanka wasn't the only Trump sibling to defend her father. Eric Trump had this to say about his father's comments, according to The Huffington Post:
At the same time, I think it's locker room banter. I think sometimes when guys are together they get carried away, and sometimes that's what happens when alpha personalities are in the same presence. At the same time, I'm not saying it's right. It's not the person that he is.
The Trump party line of "nobody understands him like we do" simply isn't cutting it, particularly for Ivanka Trump who has created a business brand based on her support of working women.
We all have one of those super embarrassing relatives, Ivanka. But we don't have to go along with their nonsense.