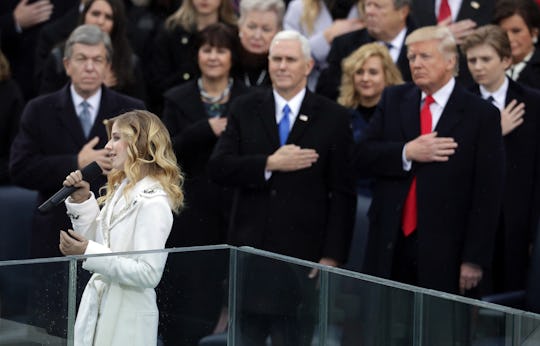 Chip Somodevilla/Getty Images News/Getty Images
Jackie Evancho Speaks Out Against Trans Order
It looks like President Donald Trump may have just lost the last celebrity who felt OK about him. On Wednesday night, former America's Got Talent winner and inauguration singer Jackie Evancho spoke out after Trump rescinded transgender protection guidance policies issued by the Obama administration last May. "I am obviously disappointed in the @POTUS decision to send the #transgender bathroom issue to the states to decide," Evancho tweeted. Evancho's sister, Juliet, is transgender, and is one of three students currently suing the Pine-Richland School District for discrimination. The Pine-Richland School District declined to comment on the case to Romper, citing pending litigation.
The letter issued by the Education and Justice departments under Obama did not create or change any laws, but merely clarified existing law as it relates to transgender students. Title IX of the Education Amendments of 1972 prohibits sex discrimination in schools that receive federal funds, and the letter outlined how that applied to transgender kids, specifically. Although best-known for protecting transgender students' rights to use the bathroom that corresponds to their gender identity, the letter also covers other issues, such as participation in gender-segregated teams and activities, overnight housing, and disclosure of students' personal information. It also states that students can't be barred from yearbooks or dances if they dress in a way that "does not conform to stereotypical notions of masculinity or femininity," an issue that seems to come up every spring.
According to CNN, Education Secretary Betsy DeVos is rumored to have fought against the new guidance, a claim that could be supported by her official statement, which refers to a "federal mandate" and "moral obligation" to protect all students, calls "LGBTQ students" a "key priority," and twice mentions "discrimination, bullying and harassment." However, that doesn't make up for the meat of DeVos' compliment sandwich, which states that gender discrimination is "an issue best solved at the state and local level." In reality, Title IX is a federal law, the Education Department's number one guiding principal is to ensure "access to equal educational opportunity for every individual," and the Justice Department has a whole division dedicated to upholding "the civil and constitutional rights of all Americans," including enforcing statutes prohibiting sex-based discrimination.
Rescinding the previous guidance still doesn't change the law, but it does embolden schools to discriminate against transgender and gender nonconforming students, and it sends a message to these students that the current administration does not have their backs. Many students, like Evancho and Gavin Grimm, will have to spend their formative years embroiled in legal proceedings instead of living the normal childhoods that they deserve, even though statistics clearly show that it's actually transgender people who are at risk in public restrooms, and in fact, there has never been a single instance of a transgender person (or a cisgender person masquerading as transgender) attacking anyone in a bathroom. They're just kids who want to learn, and be treated like everyone else. But according to the Trump Administration, states' rights are more important than civil rights.