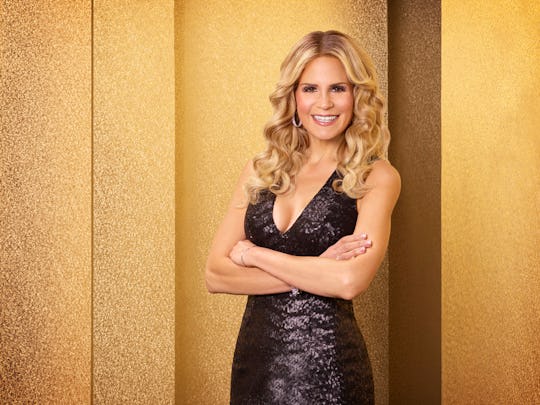 Tommy Garcia/Bravo
Jackie Goldschneider Is Opening Up About Her Eating Disorder On 'RHONJ'
When you look at the women of The Real Housewives of New Jersey, you probably see a group of confident and self-assured people. But for newcomer Jackie Goldschneider, life wasn't always all about charity galas and outdoing the other women in your circle of friends. Recently, Jackie Goldschneider opened up about her eating disorder on RHONJ and it was surprising for everyone, including her fellow co-stars. In a promo for Wednesday's episode, Jackie revealed that years ago, she struggled with anorexia.
"Somewhere in my mid-20's, I had lost some weight and it felt good and then I lost some more weight, and then I was skinny. And then I was so scared of not being skinny," she told the other RHONJ women around a dinner table. "I had a pretty bad eating disorder, and I used to get so anxious at restaurants that sometimes I would bring my own food… because it was the only thing that I felt comfortable eating — I didn't know how to eat."
She then revealed in one of her talking head interview in the episode that "living with anorexia was horrendous." This season on RHONJ, Jackie and Jennifer Aydin are the new wives on the block, so this was news to everyone else at the table. And it's brought some important awareness to the issue.
While Jackie's big reveal in Wednesday's episode of RHONJ may come as a shock to fans, at least 30 million people in the United States suffer from eating disorders. According to ANAD.org, eating disorders in general have a higher death rate than any other mental illness and those suffering from eating disorders die almost every hour. Research from the National Association of Anorexia Nervosa and Associated Disorders (ANAD) states that one in five people who suffer from anorexia die from suicide and it's a dangerous side effect that isn't lost on Jackie.
After the promo for the episode was released, Jackie opened up about her eating disorder to People magazine too. Jackie told People that now that she's been getting help, she's at a healthier weight, but it took her 10 years to get there. "I'm really proud of coming out of the other side because it was so hard," she said. "It's really not a way to live. It's horrible. It was absolutely horrible. And I'm hoping that I can help people out there like me, who usually just suffer in silence. Because I wish I knew that one day, I'd get through it. That was always a fear of mine that I would never stop doing this."
Jackie explained to People that her eating disorder began slowly around the time she was 26 years old and experimenting with different diets to lose a few pounds. Eventually, she began to limit her calorie intake to an extreme and adopted a more strenuous workout routine.
"I would do hardcore cardio no matter what, even if I was sick with the flu. I weighed every single thing that I would eat, down to a piece of gum, because I had to know I had the right amount of calories," she revealed. "I got myself caught up in it all, in these habits that were incredibly unhealthy. And they stuck with me for the next 10 years."
Eventually, the mother of four learned how serious her eating disorder had gotten after speaking with a therapist and nutritionist, and gradually, she learned healthier ways of eating and living. Opening up about her struggle with her eating disorder on RHONJ is a way to not only show another side of her life that isn't so glamorous, but also potentially help others in the process. And it could help make Jackie one of the more likable and relatable housewives this season.
Season 2 of Doula Diaries shares the stories of fearless doulas helping their clients take control of their births and make tough choices that feel right to them. Watch the first episode of the new season Monday, November 26th.