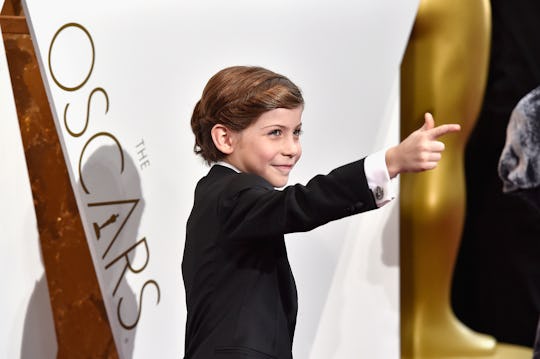 Kevork Djansezian/Getty Images Entertainment/Getty Images
Jacob Tremblay's Most Adorable Red Carpet Quotes Will Melt Your Heart
Jacob Tremblay is quite possibly the most adorable child actor, ever. At the Oscar's on Sunday night, Jacob Tremblay's red carpet quotes made him even more likable. As if that were even possible. He started off the evening on a good note for his fans by posting a selfie of his family — including his Hot Dad— on the way to the show. Once he arrived, his red carpet interviews on both E! and ABC just melt your heart. First of all, how can you not love a 9-year-old in an Armani suit? If your heart hasn't already melted, get a load of this: He's also wearing Star Wars socks. I mean, really.
Tremblay wasn't nominated for an Oscar this year, but his Room co-star Brie Larson was up for the Best Actress award and Room was nominated for Best Picture. But he doesn't seem to mind not having an award to look forward. He's sort of just along for the ride. When Ryan Seacrest asked him who he was rooting for on E! he quickly exclaimed, "Brie! I want Brie to win!" He also said he was hoping that Leonardo DiCaprio would finally get his Oscar, too. Obviously, Tremblay has already won Oscar night (and America's heart).
On Getting To Stay Up Late
On His Height On The Red Carpet
"I can see lots of legs — that's my perspective."
On "Punching" Sylvester Stallone
"I punched him in the face because he took my spot in the Best Supporting male [category]," he said.
Between his fashion sense, totally cool parents, and that smile, Tremblay definitely warrants a Cutest Kid award. There will obviously be time for Oscars later if he keeps this act up.