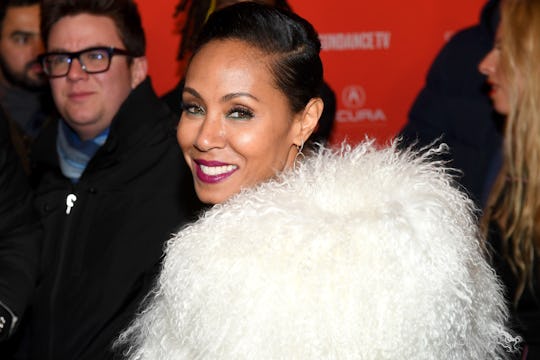 Sonia Recchia/Getty Images Entertainment/Getty Images
Jada Pinkett Smith And Her Husband's Ex-Wife Got *Real* About Blended Families
Some celebrities just seem to get it, ya know? Even though they may be entrenched in lives of luxury and glamour, sometimes it's just clear that they're just as down to earth as the rest of us. Enter, Jada Pinkett Smith. The wife, mother, actress, and new host of the hit Facebook show, Red Table Talk, has always been keeping it real, but now she's doing so in a more public manner. Yes, Jada Pinkett Smith sat down with her husband's ex-wife and got real about blended families. Like, really real, y'all.
On the first episode of her new talk show, Smith decided to tackle the subject of motherhood. The episode was the show's Mother's Day special, and so Smith explained that she wanted to talk to her husband. Will Smith's, first wife, Sheree Fletcher to honor all kinds of moms.
"I thought it was important to have that conversation because she was my entry point to motherhood," Smith explained to her on mother, Adrienne Banfield-Norris, and daughter, Willow Smith in the episode. "I was co-mothering with her. At that particular time, before [having a blended family] was popular, before it was even an idea, we were trying to create something that we had never experienced."
And seriously, the episode is definitely worth a watch if you haven't checked it out yet. Smith and Fletcher's conversation is honest, open, and yeah, it's uncomfortable at times, but it's also so important. According to the Pew Research Center, "16 percent of children are living in what the Census Bureau terms 'blended families' – a household with a stepparent, stepsibling or half-sibling." Blended families are becoming more and more common, and seeing complicated relationships being worked out is seriously refreshing.
In the episode, Smith and Fletcher talked about how rocky their relationship was at first, with Smith recognizing that she probably wasn't as aware of all the nuances in marriages at first. "Because I did not understand marriage, I did not understand divorce, I probably should have fell back," she told Fletcher. Fletcher just looked at her before she jokingly replied, "You think?" And while the two were certainly able to laugh together at many points during their conversation, there were also some points during which things got a little heated. Well, sort of.
Obviously, both women kept their cool, but when Fletcher reminded Smith of a time when she wasn't exactly the nicest, it got a little awkward. Per Fletcher, there was a time when her son, Trey, was at home with Smith and his dad, and Fletcher tried to call him. Apparently, Smith didn't like the tone of Fletcher's voice when she called, so she hung up on her. So, Fletcher decided to see what was up. "I called back and I happened to say, 'B*tch, you're living in a house I picked out,'" Fletcher explained. "You said, 'It's my house now.'" At that, both women started laughing and recognizing how far they had come.
After that, Fletcher also told Smith how much she appreciated her being a stepmom to her son. "My son could not have a better bonus mom," she said. Fletcher also recalled a time after Trey had come from spending time with Smith, and told her, "I really liked her, Mommy." For Fletcher, that was a turning point, she said in the episode. Being in a blended family is a challenge, and at times, people will be uncomfortable in their new roles. But at the end of the day, being there for the kids and loving one another is the most important thing, something Smith and Fletcher have definitely realized.