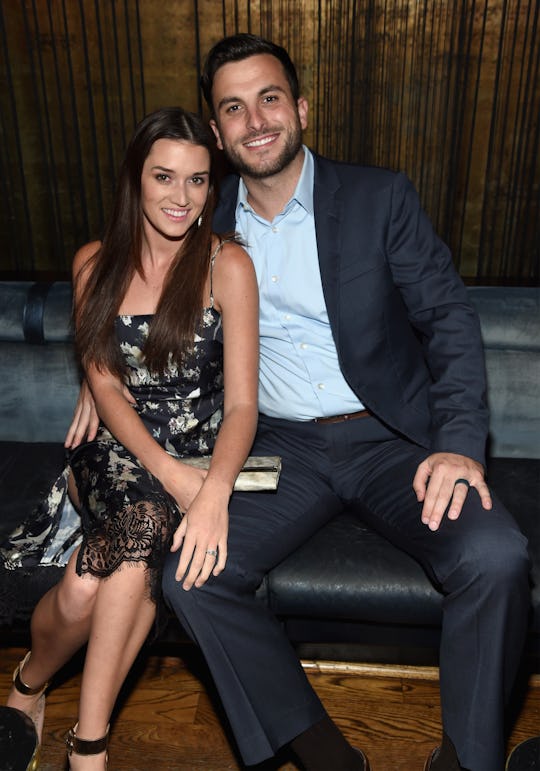 Jamie McCarthy/Getty Images Entertainment/Getty Images
Jade Roper & Tanner Tolbert's Net Worth Is Proof…
Jade Roper and Tanner Tolbert met and fell in love in 2015 on Bachelor In Paradise. Since then, the former Playboy model and her financier love have married (Tolbert proposed during the Season 2 finale) and given birth to their first child; baby girl Emerson Avery Tolbert was born four weeks early on Aug. 17. While their whirlwind romance might seem like a fairy tale come to life, there is another benefit to falling in love on any version of The Bachelor; heaps of cash. Jade Roper and Tanner Tolbert's net worth has grown considerably since they took the plunge on Bachelor In Paradise, thanks in large part to social media celebrity endorsements.
In the weeks and months following their appearance on the reality show, the couple started touting brands like Hallmark and HelloFresh.com on their Snapchat and Instagram accounts. Roper and Tolbert were well on track to earn $1 million by the end of 2016, if not more. While a source close to the couple explained to Us Weekly in 2016 that the couple are "really in love," Tolbert (who has a background in finance) saw an opportunity and wanted to make the most of it:
Tanner wants to take every opportunity thrown his way. Though Jade is a little apprehensive about losing followers. She wants to be organic in her social media.
Which makes sense, in a way. They obviously wanted to have a baby at some point, and now that little Emerson has arrived she can bask in the glow of her parents' Instagram wealth. She can even get in on the promotional gig herself (side note; she's a very adorable little baby).
The new parents were smart about making the most of their reality-star status; their wedding ceremony was broadcast on The Bachelor At 20, a special episode airing February 2016. The wedding was even officiated by Bachelor host Chris Harrison, arguably one of the hardest working hosts in television.
After the wedding, the couple enjoyed a little wedded bliss for a few months until they felt the well-timed need to work on their marriage on the reality series Marriage Boot Camp. Just seven months after they were married, the two were facing off with lie detector tests, constant fights, and frequent tears.
Happily, the boot camp seems to have done the trick. The couple are now parents to a beautiful baby girl, and Roper in particular is completely in love with her daughter.
She told Entertainment Tonight that she had no idea she could love someone so much until she became a mother:
There was this one night where she was up every hour and I got no sleep and I was just crying the entire night and I'm like, 'I can't even be mad at you because I just look at your face.' It's just like, this crazy love. It makes me love everything even more. I love Tanner more. I love Emerson. I love my dogs more. Like, I thought I'd come home and I'd think, 'Oh, you guys are just dogs now.' But it makes me love them even more. Your heart is just so full, it's unbelievable.
It seems, at the end of the day, the sponsored posts and the reality shows can't compete with her baby girl. Sweet.