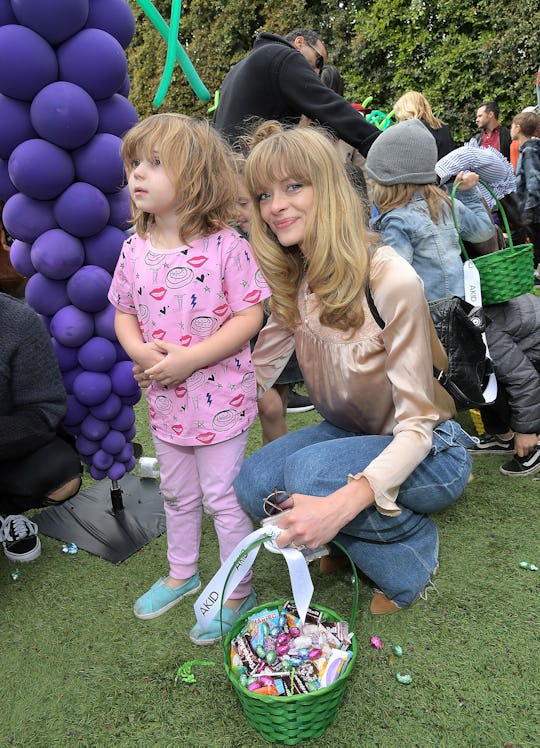 Charley Gallay/Getty Images Entertainment/Getty Images
Parents Are Loving This Empowering Photo Of Jaime King With Her 4-Year-Old Son In A Pink Dress
Nothing in this world is lovelier than a child who gets to be whatever they want. Sadly, it's not something a person gets to see every day. Kids struggle with the same self-doubt we do, mostly because adults tend to put it there. Inadvertently, for the most part, but that self-doubt hangs heavy on the shoulders of children nonetheless. But when you get to see a kid being who they are inside... that's real magic. You can see it in the glimmer in their eye. And you can see it in this photo of Jaime King's 4-year-old son in a pink dress. That little boy is having a grand old time, and I love it.
Of course it probably didn't hurt that little James Knight, King's son with director husband Kyle Newman, got to go to the premiere of the much-anticipated sequel Incredibles 2. The Hart of Dixie actress brought her youngest boy along to walk the red carpet with her and soak up some of that sweet, sweet limelight. And did he ever shine. James wore a long, two-toned pink dress paired with practical sneakers. When King (who also has a 3-year-old son named Leo) shared a picture of the two of them on Instagram, they looked like they were having the time of their lives.
Which it seems they were, and apparently James was pretty excited about the big event even before they walked the red carpet. King shared a message on Instagram explaining that he had also helped to pick out her lipstick and dress:
I love my baby SO MUCH!!! He chose my lipstick and dress with Annabelle Harron 😍 To my beautiful husband, I love thee. The greatest creation has been our love made manifest in our children.
King added the sweet hashtag #ifyoulikeitwearit, and judging by this picture of her son posing with Frozone (or as some call him, Samuel L. Jackson) from Incredibles 2, her son definitely liked it.
The comments left by fans on King's Instagram were refreshingly positive, with most people praising her for encouraging her son to embrace the person he truly is without enforced gender stereotypes.
"My nephew loves rocking dresses like this. It's nice to see a prominent mom like you embracing this," one fan commented. "Makes me more confident for an accepting future."
Another fan chimed in, "Thank you for being you. We need more people and Mother's like you in the world. ❤️🙌"
Even some celebrity moms got in on the action, with Lisa Ling writing, "What a wonderful mom and human you are."
King has long been a supporter of gender neutrality in kids' clothing; the former model even designed her own line of kids' clothing free of gender conformity in 2016 for the brand Gardner and the Gang. There's a reason why King is so concerned that her sons be raised without the pressure of gender conformity. As she told Style Caster, she was bullied herself as a child:
I didn't have enough money to buy fancy things. I was bullied and ridiculed because I looked a certain way, but I didn't have the means to fulfill whatever that picture was. I wasn't a cheerleader. I wasn't going to be a jock. I was an introverted, artsy kid in a place where that wasn't accepted.
It's so important for mothers of influence to lead the charge when it comes to encouraging kids to be themselves. Every time an actress like Jaime King takes her son out in a pink dress and shows that it is truly no big deal, it might make it easier for another parent. Someone who might feel stuck in old stereotypes.
And every time a parent lets a kid be a kid however they choose... that's a real day of sunshine.