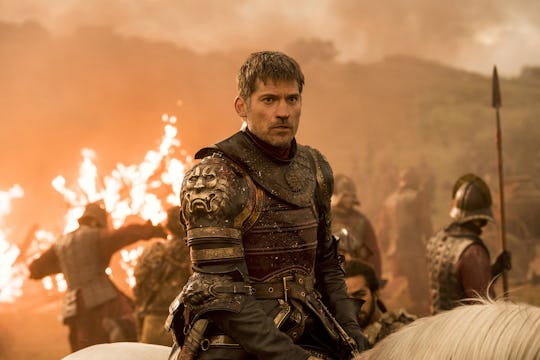 Macall B. Polay/HBO
Why Fans Should Be Concerned About Jaime's Fate On 'Game Of Thrones'
Jaime can never be accused of being cowardly since he was, after all, the guy to enter into an impromptu jousting match with Drogon on Sunday's Game of Thrones. Of course, he would have been burned to death if Bronn hadn't shown up at the last minute to grab him and pull him into a huge body of water. But Jaime's fate on Game of Thrones is still unknown at this time.
What fans do know is that his fate may be tied to Cersei and whatever decisions she makes next. However, as we all know, she's not the best decision-maker in the realm. (See the Great Sept of Baelor explosion that resulted in her last remaining child's suicide for proof enough of that.) If Jaime is alive, which he more than likely is right now, there's a good chance that he could be taken prisoner under Daenerys' watch and used for leverage against Cersei.
If that's the case, then Jaime's fate is in her hands and she's far too impulsive of a queen to make the right choice. Instead of doing what she can to ensure his safety, Cersei would likely set forth whatever soldiers they have left (are there really any at all?) and inadvertently have them meet their deaths at the hands of Daenerys' Dothraki army. And in the end, Cersei would still be without her brother and last living relative that matters to her.
If Jaime survived his fall into the somehow bottomless lake or sea and finds his way back to King's Landing, his link to Cersei will probably still be what ends his life eventually. Nikolaj Coster-Waldau (who plays Jaime) recently told Entertainment Weekly that while he can't reveal how things turn out for Jaime on Game of Thrones, he doesn't have too much hope left when it comes to the one-handed knight. "It's not going to end well for Jaime Lannister, I can't imagine," Coster-Waldau admitted.
Jaime's biggest fault (other than the fact that he caused Bran's accident in Season 1, but we'll let that slide for now) is his blind loyalty to his sister. Their love for each other is what has kept both of them going, along with their shared love for their three children, who are now all gone. It was under Cersei's orders that Jaime and their army invade Highgarden and on their way back, Daenerys and her own army (including Drogon) caught them off guard and defeated them. If Jaime hadn't obeyed Cersei, he wouldn't be floating to the bottom of that lake right now.
I'm not going to say that Cersei is quite at the level of the former Mad King Aerys, who was known for going so off the rails that Jaime had to put him down, but she's well on her way. If Jaime continues to follow her, he's definitely doomed. And if he comes to realize that she, too, needs to be killed for the good of the country, then that will no doubt destroy him. Either way, Jaime's fate on Game of Thrones does not look good, no matter how you spin it.