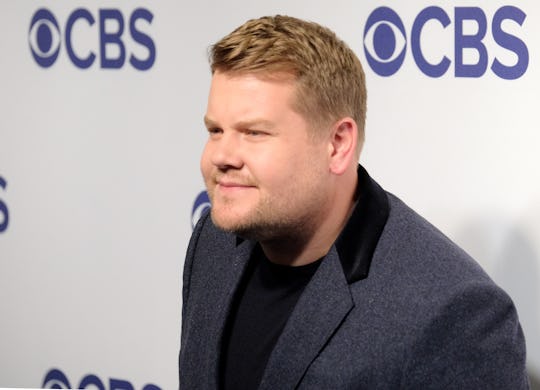 Matthew Eisman/Getty Images Entertainment/Getty Images
How James Corden Described Raising His Three Kids Is Hilariously Spot-On & Brutally Relatable
James Corden is a seriously multi-faceted performer. He has his own talk show on CBS, The Late, Late Show With James Corden, he's a really good singer, an actor, and just one of those people who seems like an all-around good guy. There's something about Corden, an ease of spirit if you will, that makes a person think he just never really gets ruffled about anything in life. As I said, he's a good actor. Because Corden's description of raising three kids as a "nightmare" is particularly perfect, and proof that he definitely gets his feathers ruffled every once in a while.
The Carpool Karaoke star welcomed his third child, Charlotte, back in January with wife Julia Carey; the couple also has another daughter, 3-year-old Carey, and a 7-year-old son Max. When his daughter Charlotte was born, Corden was waxing poetic about how wonderful having a new baby was, according to a January interview with People. He said at the time that he "couldn't bear to be away from them" as he prepared to host the Grammys later that month.
I guess the bloom is rather off the rose. Corden spoke to People on Tuesday about his updated experience raising three kids so far recently, and he was pretty clear about wanting to avoid one element of parenting. Going to restaurants.
No matter how close or how kid-friendly, Corden contends that taking his kids to a restaurant is an absolute "nightmare" in his interview with People.
It's just a nightmare. I got back from Liverpool on Sunday, and we thought, "Let's take the kids out. Let's go for lunch." I mean, it's a joke. We actually went to a place at the end of our road for lunch, and we looked like we were fleeing the country. We had that much stuff. It's absurd.
Corden admitted that he didn't think it was "worth the hassle" to take the kids out for a bite to eat, and says he now understands why his parents didn't take him out for meals as a kid either, according to People. "I understand, now, why my parents just used to not do anything with us on the weekend, 'cause it's too much hassle. The bags and the stroller, and the baby here and there's wipes everywhere, and Sudocrem, and she's got a sore bum," he told People. "You're asking for the check before you've sat down."
It isn't just taking kids to restaurants that gets Corden all stressed out when it comes to parenting. On Monday, he opened up on Live With Kelly and Ryan about what traveling with his brood looks like as opposed to traveling on his own. When Ryan Seacrest asked Corden if he liked the "peace and quiet" of flying, Corden said, "No it's a blessing, because normally I travel with my wife and our three children... It's like a holiday in itself. I can't believe that all that's expected of me is to sit here and eat food."
Sounds pretty wonderful to this mother of four, to be honest.
But what does it look like when Corden travels with the whole family? Again, it's all about the amount of stuff you have to cart along with the kids, as the talk show host told Ripa and Seacrest.
Corden doesn't even have to leave his house to feel like he's in a "zoo," as he told The Sunday Mirror after his third child was born:
With two it was like we had two really, really great pets, and now it feels like we've bought a zoo. I'm exhausted. It is so difficult with three children.
I think it goes without saying that Corden is delighted with his little family. That he's happy to deal with all of the stuff and mess and such, like most parents are. Most days.
But still, some days parenting multiple kids is just nuts. And it's good to know even multi-talented, chilled out guys like James Corden lets it get to him once in a while.