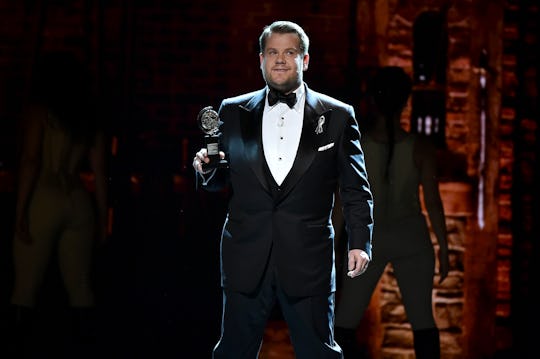 Theo Wargo/Getty Images Entertainment/Getty Images
James Corden's Tonys Remarks About The Orlando Shooting Were The Best Introduction
The 2016 Tony Awards host James Corden opened the world's biggest theatre awards show in a poignant and timely way: He immediately paid tribute to the victims of the Orlando shooting that occurred early Sunday. Corden's Tonys remarks about the Orlando shooting made it clear that the pain suffered by the victims' families, by Orlando, and by LGBT individuals were felt acutely within the theater community.
Corden's remarks were short and to the point, but incredibly poignant:
All around the world, people are trying to come to terms with the horrific events that took place in Orlando this morning. On behalf of the whole theater community and every person in this room, our hearts go out to all of those affected by this atrocity. All we can say is you are not on your own; your tragedy is our tragedy.
Theater is a place there ever race, every creed, every sexuality is equal, embraced and is loved. Hate will never win. Together we have to make sure of that.
It was an important way to introduce what should be a night of joy and celebration on a day marked by incredible sadness. Theater has always been a home to races and sexualities of all kinds, and Corden acknowledged that without hyperbole.
Corden was not the only one to acknowledge the tragic events in Orlando at the Tonys, either. Hamilton decided to lay down its muskets onstage after the Orlando shootings, and Tonys attendees pinned silver ribbons to their outfits in honor of the victims.
Theater will always be inclusive, and this year seems especially so. As Corden said while ending his opening, "tonight's show stands as a symbol and celebration of that principle. This is the Tony Awards."
Reconciling something as exciting as the Tony Awards with something as horrific as the Orlando shootings is an impossible task, but Corden did a good job of it, while managing to keep it touching and respectful. Hats off to you, Corden.