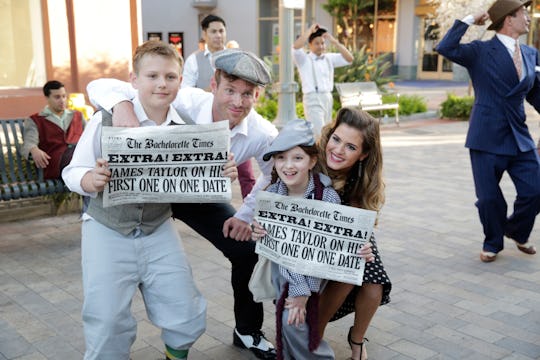 ABC/Greg Zabilski
James Taylor Is Adorable On "The Bachelorette" & Twitter Takes Notice
The Bachelorette contestant James Taylor's first claim to fame is that he has the exact name as the musician – and this James Taylor also happens to be a musician. Weird, but he actually seems to have some skills. But that's not the only reason he's become a fan favorite. James Taylor's admittedly a bit dopey – as evidenced by his football "injury" on his eye from the last episode that's still hanging around. As James Taylor advances on The Bachelorette, he continues to be adorable if not spacey, but fans love it.
On Monday night's episode, JoJo announced that after the Pennsylvania trip she and the contestants will now be taking a trip to Uruguay. In a talking head, James Taylor (only calling him one name doesn't feel right) talked about how excited he was for the trip. He mistakenly said that Paraguay and Uruguay were neighboring countries, then soon gave up the ruse that he knew what he was talking about. "Uruguay? I don't even know where that is really...I don't even care I'm so happy!" James Taylor exclaims, before explaining that his mother is a geography teacher and would be so pissed that he did not know where Uruguay is.
Oh, James Taylor, so ignorant yet so lovable. Some Bachelorette fans on Twitter agree:
Others do not fall for his spell:
There are those more focused on James Taylor's injured eye:
And finally, a good amount of fans are more focused on James Taylor's future. They do not foresee him winning JoJo's affection in the end – but they want him to go on and be the next season's bachelor:
Whatever happens, it's clear that James Taylor is popular on social media – or at least popular to make fun of. Hopefully he stays put on The Bachelorette, because reactions to him on Twitter are priceless.