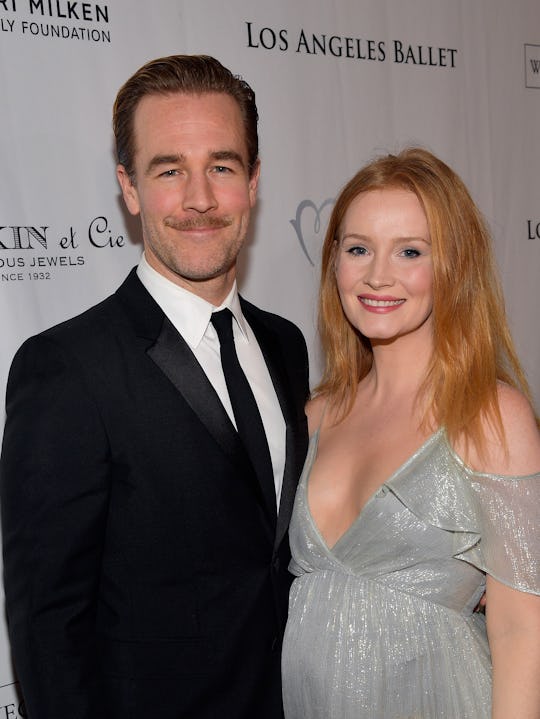 Matt Winkelmeyer/Getty Images Entertainment/Getty Images
James Van Der Beek & Wife Kimberly Welcome Baby No. 5 — A Girl! — & Her Name Is So Beautiful
In the midst of all the Father's Day posts from celebs on Sunday, you might have missed some pretty big news from a certain Dawson's Creek star. Yes, you read that headline correctly: James Van Der Beek and his wife Kimberly welcomed their fifth child, and the baby girl's name is so, so beautiful. As People reported, the family's newest bundle of joy is named Gwendolyn.
While the star's happy news was announced on Sunday, perfect timing for Father's Day, baby girl Gwendolyn was actually born Friday morning in the couple's own home, according to People. In addition to posting a seriously adorable Instagram post of his wife and four older children looking down at the baby, Van Der Beek also released a passionate political statement to People.
"I've been in bliss these last few days, but I've also been feeling the pain of parents who have been separated from their kids, and the terror those poor kids must be in right now," the actor's statement read, in part. The 41-year-old father of five is likely referring to the new immigration policy that separates children from their parents at the United States-Mexico border. According to CNN's most recent estimate, 1,995 children have reportedly been separated from their parents since April 19.
Now, Van Der Beek — along with many other celebs — is taking a stand against this policy. His caption on his Instagram photo of his little family did not beat around the bush and slammed the practice. He wrote:
These last few days, as I've enjoyed the privilege of making smoothies I know my older kids will like, making my wife red raspberry leaf tea to ease her uterine contractions, spending 'boy time' with my son and getting my two year-old down for a nap in the way only I know how... I've been heart sick about something.
He then went on to describe the "purposeful display of cruelty" he finds the immigration policy to be, and he didn't mince words. Van Der Beek is obviously very proud of his wife and over the moon to now have his new daughter in this world with them, but he also wanted to take the opportunity to spread awareness about a very pressing issue, which is very admirable.
What's also great? How stinkin' adorable their new daughter and her name? Seriously, Gwendolyn is totally unique, and also totally on par with the rest of the Van Der Beek kids' names. Baby Gwendolyn joins four older siblings: 2-year-old Emilia, 4-year-old Annabel Leah, 6-year-old Joshua, and 7-year-old Olivia. The Van Der Beek family of seven is clearly a happy one.
Obviously, Van Der Beek wasn't going to announce the birth of his new child without also giving a special shoutout to his amazing wife, Kimberly. The business consultant and producer is now a mother of five and as People reported, four of their children were delivered at their home. Now, every birth — whether at home, in the hospital, natural, or medicated — is a phenomenal feat, but Van Der Beek really wanted people to know that his wife totally kicked butt at it.
"Oh, and @vanderkimberly - you're a f*cking earth goddess rock star and I'm as in awe of you as I am in love with you," Van Der Beek concluded his Instagram caption.
On Sunday, Kimberly also took a moment to celebrate their daughter's arrival when she shared a super sweet close-up of baby Gwendolyn on her Instagram Stories.
Indeed, baby Gwendolyn one perfectly adorable bundle of joy, and so was Van Der Beek's birth announcement. Congrats to the happy family!