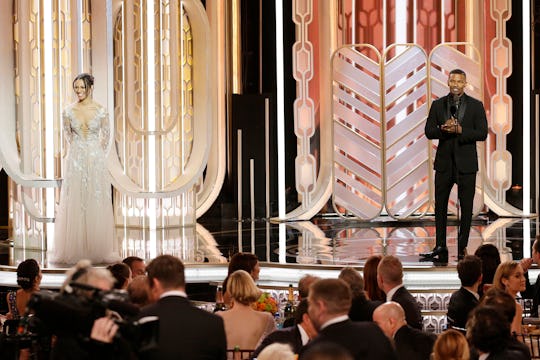 Paul Drinkwater/NBCUniversal via Getty Images
Jamie Foxx's Steve Harvey Joke At Golden Globes Was A Hit With Audience Members
We're already calling it "pulling a Steve Harvey," right? When presenting the Golden Globe for the Best Original Score in a Motion Picture, Jamie Foxx pulled a Steve Harvey, jokingly announcing the wrong winner before announcing that the trophy had actually gone to Ennio Morricone for The Hateful Eight. Consider Harvey's slip-up at Miss Universe is still in the not-too-distant past, the whole audience seemed to love it.
After announcing Straight Outta Compton as the winner — even though the movie was robbed of a nomination — Foxx "corrected" himself. "I'm sorry folks. I made a mistake. It's right here on the card," he said, revealing the true winner to the audience. As most of the world remembers (either from watching Miss Universe live or by getting on the Internet anytime since then), that's basically exactly what happened when Harvey mistakenly announced Miss Colombia as the winner of the pageant rather than true winner Miss Philippines. Except, in Harvey's case, not as many people were laughing.
The crowd at the Golden Globes and those reacting online seemed to love the joke, although there's no word from Harvey himself yet. Fortunately, he has proven able to laugh at himself and his gaffe since the incident.
The seriously light-hearted joke was a nice balance after a night that began with some harsh, offensive jokes courtesy of host Ricky Gervais. Is it too early to start the campaign for Foxx to host instead?
Images: Paul Drinkwater/NBCUniversal via Getty Images